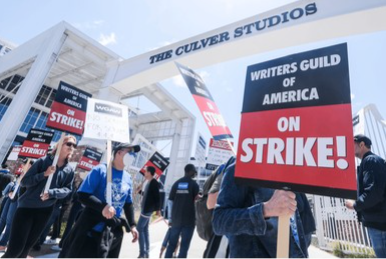 As the effects of the writers' and actors' strikes in Hollywood continue to ripple through the entertainment industry, their far-reaching impact is becoming increasingly evident in the lives of our local movie and television enthusiasts. 
The writers' strike began earlier this year in May, and ended this September, while the actors' strike started this July and ended earlier this month. The main cause of the writers' strike was due to conflicts about compensation with Hollywood producers, according to Vox. Since the rise of streaming, corporations have been depending more on subscriptions to generate income. Because of this, writers only earn a small portion of the money from streaming service views because their contracts with the networks primarily cover revenue from reruns. Similarly, pay disagreements also caused the actors' strike, particularly in light of the industry-wide move toward streaming, which has changed how actors are paid for their royalties, or residuals. 
Although both strikes have recently ended, many of the television shows and movies that our own community enjoys have still been affected. 
Junior Gabriel Okobi, President of the Falcon Film Club, said "Dune 2, Spider-Man: Beyond the Spiderverse, Stranger Things 5, and all of the upcoming Marvel projects are just a few I know people are bummed about." 
"It's upsetting. Seeing movies at Rio is a staple of MoCo teen life for lots of kids in my area," Okobi said. "I know somebody who just canceled her birthday plans to see Dune 2 because of the film's delay into March 2024." 
Another example of students missing out on media that they were anticipating comes from senior Sana Narisu, fan of Abbott Elementary, which was one of the many shows delayed due to the strikes. 
"I was so excited that [Abbott Elementary] was renewed for a third season at the beginning of this year, and then was left extremely disheartened by the news that it would be delayed," Narisu said. "I miss the show and its characters so much that I've been rewatching episodes of the past two seasons." 
According to Variety, this trend is also being seen among viewers nationwide, with streaming services gaining a big jump in audiences with people wanting to rewatch older material since there isn't any new material to indulge in. But this also means that writers and actors are continually losing out on potential profits, which a lot of the audiences don't actually purposefully mean to affect. 
However, it's not just viewership that's being impacted by the strikes here. The strikes' influences have reached their way into the potential of future careers for student writers as well. 
Senior Daniela Martinez is a student author and contributor to the PHS Literary Magazine, and she says that, "I've reconsidered a career in writing for major film and television studios because of the issues the strike has brought up related to the unequal pay and inequity facing writers." 
But while the strike has obviously had negative ramifications within our community, it's also been inspiring activist sentiments amongst us. 
"However, it has inspired me to fight for writers to be heard on the picket lines in order to strengthen the future of the writing community," Martinez said.