New Yayoi Kusama exhibition gains attention in DC
One of DC's top modern art museums, the Hirshhorn, recently debuted a new exhibition: "One with Eternity," featuring top-selling contemporary artist, Yayoi Kusama. The exhibit highlights five of Kusama's works, including immersive room experiences, sculptures, paintings, and photographs of Kusama. The exhibition will be open from April 1, 2022 until Nov. 27, and is the Hirshhorn's second exhibition fully composed of Kusama's art.
Kusama is most known for the notable rooms she makes, bringing the audience into her art and creating a completely captivating experience. These rooms typically include abundant mirrors and dots of various sizes. The exhibit includes her first and most recent Infinity Rooms, which show all across the world and consist of a dark black room covered in mirrors and colorful dots sustained in time. It will also show her pieces Pumpkin and Flowers—Overcoat, which she made in 2016 and 1964 respectfully. In addition to these pieces, the exhibition will display a new Kusama piece for the first time in DC. 
 Each viewer in the Kusama exhibit is given an allotted amount of time that they can stay in each room which decreases as the number of viewers increases. Art teacher, Shannon Heaton, mentioned that her last time visiting a Kusama exhibition only allowed each viewer thirty seconds per room. 
"This made the experience even more fleeting, and forced the viewer to put their phones down to really experience the space," Heaton elaborated on the time limit. 
However, not everyone views Kusama's work as an opportunity to allow reflection.
"Two things are closely associated with superstar artist Yayoi Kusama: pumpkins and selfies," mentioned art blogger, Brian Boucher. 
Instead of viewing the pieces as contemplative and innovative, many see Kusama's work as vapid and narcissistic. Despite rising to fame through her work Narcissus consisting of dozens of mirror-coated spheres and critiquing shallow takes on art, her work is now seen as indicative of the very mindset she actively disapproves of. Some argue that she purposefully appeals to vanity and that her work lacks any real substance— a common critique of many contemporary artists. 
Even though her seemingly simplistic work is sometimes seen as empty and unimaginative, Kusama has always had a strong connection to dots, and has mentioned how they mean much more to her than their simple shape. In her earliest artworks throughout her childhood, dots are widely prevalent in elementary artwork like landscape or self-portrait drawings. She viewed dots as a way to identify with the universe, and mentioned that her eyes immediately widen when she sees dots. However, growing up in a rich family in Japan, her love for art was often discouraged— her mother only allowed her to go to art school if she also attended etiquette school. In 1977 she was checked into Seiwa Hospital after experiencing hallucinations, and there they emphasized the helpfulness of creativity and art. She has resided in the hospital since, and continues to create her most notable pieces there. 
"I fight pain, anxiety, and fear every day, and the only method I have found that relieves my illness is to keep creating art," Kusama said in her autobiography, Infinity Net. 
Leave a Comment
About the Writer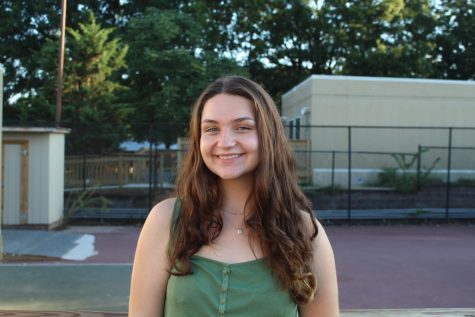 Kaitlyn Schramm, Copy Editor
Kaitlyn is a senior in the Humanities Program. This is her  second year with The Pulse but her first year as a Copy Editor. Her favorite book is Slouching...