Drake‌, ‌Kanye's‌ ‌fiery‌ ‌feud‌ ‌climaxes‌ ‌in‌ ‌hip-hop‌ ‌album‌ ‌war:‌ ‌Certified‌ ‌Lover‌ ‌Boy‌ ‌vs.‌ ‌Donda.‌
Releasing their albums a mere five days apart from each other, rappers Drake and Kanye West have taken their slowly erupting feud to the next level. The two have taken to social media to secure their spot as the number one rapper right now— through sales, cultural influence, and critical acclaim.
West released his twenty-seven-track album on Aug. 29th, 2021, after postponing it multiple times from its original July 23rd release date. On July 24th, after fans anxiously waited for Donda, Consequence, a member of West's inner circle, tweeted: "We looking for @drake drop date." This only generated more buzz for Donda, helping it sell 309,000 equivalent album units in its first week, and 423 million streams within its first eight days of release. But compared to West's huge streaming numbers, Drake's Certified Lover Boy reached 43,200 albums and 680.9 million streams within its first three days of release.
West generated hype for his album through three stadium events, which were also live-streamed for Apple Music users. Donda also generated plenty of speculation regarding its hidden features, including The Weeknd, Lil Baby, Playboi Carti, and Roddy Ricch. Similarly, Certified Lover Boy garnered attention for its feature list, which includes JAY-Z, Travis Scott, Future, and Lil Wayne. Certified Lover Boy also received publicity from its controversial album cover, which features 12 pregnant emojis.
"I think the album cover is disgusting, but it's part of Drake's marketing strategy. All publicity is good publicity," Drake fan and PHS junior Andy Kim said.
Fans took to social media to debate which album was better. Some students at PHS had their own opinions on the albums.
"While Kanye's album rollout was disorganized and missed its deadlines, Donda definitely changed the game with its incredible features and production," West fan and PHS senior Charlie Helfert said. "It was like an Avengers movie of collaborations. It's the best album of all time."
Although much of it stemmed from their album releases, Drake and West's beef extends beyond their music. Their relationship began with mutual respect, and the two even planned a collaborative album together, but their relationship deteriorated over time through small jabs at each other. One major determinant was a diss in Drake's 2016 song, "Summer Sixteen," where Drake raps: "I used to wanna be on Roc-A-Fella then I turned into Jay, / Now I got a house in L.A., now I got a bigger pool than 'Ye." 
The two rapper's feud extends beyond rap insults. On Aug. 23rd, West leaked Drake's address in a now-deleted post. In response, hours later, Drake posted a mysterious video of himself driving at night, laughing into the camera.
Leave a Comment
About the Writer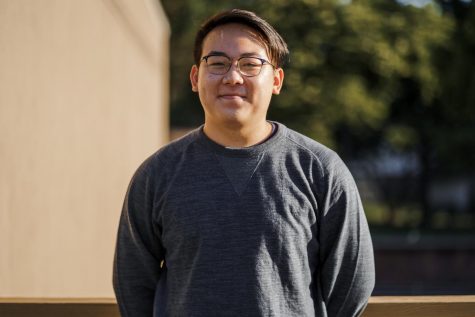 Andrew Shigetomi, Editor
Andrew Shigetomi is a senior in the Humanities Program, and this is his second year writing for The Pulse (this year as a social media manager and copy...