Pandemic Lowers Movie Theater Availability and Revenue
Due to the restrictions brought about by the COVID-19 pandemic, movie theaters have suffered substantially lower box office revenues in 2020, leaving both theaters and consumers to readjust to these conditions. 
According to Comscore, the North American box office ended 2020 with $2.2 billion in revenue, a massive 80% drop from the nearly $11.4 billion earned during the 2019 domestic box office year and a 40-year low in revenue. Even in January 2021, according to Variety, the box office revenues from that month were already 90% lower than those of January 2020. This is all due to the restrictions brought about by the pandemic, instilling limitations on large public gatherings. In January, the World Health Organization stated that herd immunity would most likely not be achieved in 2021, meaning that mask-wearing and avoidance of gatherings within confined spaces could last all year. As of February 22, every state except for New Mexico is permitting indoor cinemas to operate, each state imposing its own varying restrictions. In regards to a more local perspective, Montgomery County (MoCo) theaters have been closed since March 2020, so they've been garnering no revenue since then; unlike other businesses that have opted to do delivery or mail-order for certain businesses, MoCo theaters haven't been able to find any replacements for their revenue. 
Theater owners around the country have been combining efforts to get their respective theaters open, mostly focusing now on attaining the aid necessary to keep them surviving during the pandemic. Doug Murdoch, the executive director of the Mid-Atlantic National Association of Theatre Owners (NATO), has been working with other theater owners and lobbyists within the DC, Maryland, and Virginia area; in mid-January, he helped start a legislative session in Maryland to get many closed theaters opened soon. 
"Now that we've been closed for so long, we're trying to get relief for [theaters]," Murdoch explains, "whether it's in grants… anything to help them survive."
Senior Conri Connell has taken up critiquing movies as a new hobby during the pandemic, reviewing almost 200 movies so far on Instagram. While he has been reviewing movies from the comfort of his home, Connell does note that the at-home viewing experience does have its flaws, which especially impact him as a reviewer.
"It's kind of difficult to observe things like sound mixing/editing or VFX and take that into account when you're watching on a laptop or iPad or TV," Connell expresses. "Theaters definitely give you that cinematic experience."
Connell further discussed the core qualities of the theater experience that ultimately make it his preferred viewing method. 
"Personally I'm down for any environment for watching a movie, but I like the movie theaters more than anything," Connell adds. "The collective gasp an audience takes when something shocking happens… that's the best thing ever."
Taking into consideration such consumer interest in the theater experience, Murdoch personally doubts the dominance of at-home viewing experiences in comparison to theater experiences once theaters are allowed to open and host showings again. Despite the current conditions imposed upon theaters during the pandemic, as well as the rise in popularity of streaming services for at-home viewing experiences, he adopts more of an optimistic view on the return of theaters to the public.
"I like to come back to a very simple analogy: I have a kitchen in my house, but I can't wait to go to a restaurant," Murdoch comments. "While we all have our cellphones, TVs, and laptops, where we can get to see some filmed products, I think there's such an interest, as a part of our culture, to go back to the movies."
Leave a Comment
About the Writer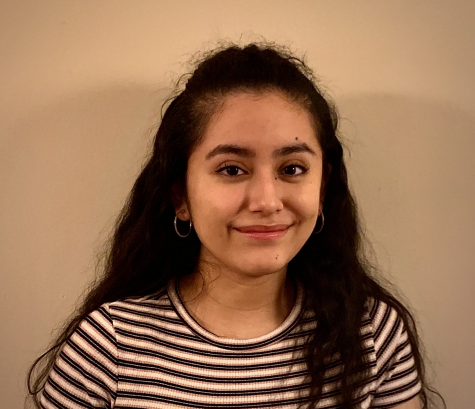 Caroline Culqui, Staff Writer
Beat: Current Events

Caroline Culqui is a senior in the Humanities Program. She is a co-president for the Hispanic Heritage Association at Poolesville....