PHS and Online Learning: How the Programs are Being Adapted Online
Despite the transition to online learning, teachers at Poolesville High School are continuing to preserve magnet program curriculums on an online platform. Whether it be through virtual field trips, intra-house community events, material distributions, online simulators, or shifting curriculums, each program is manipulating the online platform to maintain program focus and student engagement. Although there is no way to exactly replicate the experience of in-person learning, staff are still making the attempt to cultivate program focus.  
In the Global Ecology Studies Program, teachers across all grade levels are creating assignments with a focus on the outdoors, and have been hosting cross-grade community events, with more still in the works, including a day of service to promote the house focus on stewardship. But, the inability to have in-person field trips has still presented challenges for the field-based program. 
"We know this situation isn't ideal," Global Head of House Ms. Erin Binns said. "We are trying to come up with creative ways to foster these connections [between the environment and the curriculum]. We're planning virtual field trips, doing as many activities in breakout rooms as we can, and leading discussions to encourage students to talk to each other."
Freshmen Global students were able to take a virtual field trip to the Museum of the American Indian through live feeds generated by Mr. Morrell and Mr. Sparrow. Working with their block schedule, 9th-grade Global teachers have also been prioritizing community-building, using icebreakers and group activities to get freshmen to interact with each other. Likewise, sophomore Global students were able to join Mr. Short for a virtual kayaking trip through the Black Hills, while 11th and 12th-graders have been working through assignments specifically designed to take them outside. But, there is still a feeling of disconnection.
"Not to discredit their [the Global teachers'] efforts, but the way it [Global class] is right now does not anywhere near resemble the energy of Global the last two years," Global junior Lauren Raskin said. "The community vibe…is gone, which is expected given it's hard to relate and come together as a group…through a screen." 
While Global has been adapting to a lack of outdoor opportunities, Project Lead the Way (PLTW) has been adapting to an inability to complete hands-on engineering projects. Although PLTW is currently providing an online curriculum for each of their classes, teachers across all PLTW classes have had to adapt and change the curriculum to allow for online-based content and simulations. In Introduction to Engineering Design, there is much more of an emphasis on online 3D modeling, with classes switching modeling software to accommodate student computers. Both Principles of Engineering classes and Digital Electronics classes have had to introduce online simulators for projects. As for the possibility of hands-on projects, plans are in the works, with the Technology department looking for ways to package and distribute materials to students..
"I'm working with other teachers around the county to create a project where… you can use materials you already have at home to build a compound machine to do… a certain function," PLTW Coordinator and ISP Head of House Mr. Terry Young said, "We're trying to replicate but there's no way to duplicate."
The Science, Math, and Computer Science Program (SMCS) is facing a very similar problem in terms of its ability to do hands-on projects. There have been collaborations between teachers to create a unique experience, but teachers are still limited to a digital scope.
"For a lot of our SMCS classes, we have to rely on online simulations in place of hands-on activities," SMCS freshman Leavy Hu said. "Or our teachers have to draw lessons, which can slow down lessons or [sic] not provide as much context compared to if we got to actually do something with our hands."  
Sophomore SMCS teachers have, similarly, been looking to online simulations to supplement a lack of hands-on activities, while still trying to promote the connection between the curriculums of the SMCS core classes. Junior and senior classes are also busy continuing their track to graduation, with 11th-grade students looking for internship opportunities despite uncertainty around COVID, and seniors preparing their capstone presentations. 
Meanwhile, Humanities teachers are working to preserve field trip opportunities by reaching out to museums and theaters for access to online exhibitions and productions, with 9th-grade teachers specifically connecting with Glenstone Museum to replicate their usual focus on modern art. All four grades in Humanities have also put more emphasis on cross-class connections, as teachers plan and implement interdisciplinary projects on an online platform. So far, 11th-grade Humanities teachers have crafted three major projects for the first semester, each using key skills from all three Humanities classes. The capstone senior research project is still underway, with students expected to continue their research from the summer and begin writing. Additionally, the Humanities house hosted a program-wide pumpkin carving contest and scary-story discussion on the night before Halloween to create bonding experiences that would typically take place in a classroom. 
Independent Studies Program (ISP) seniors are also expected to produce their final project this year, despite the change in the learning platform. ISP heads are currently looking into exceptions for the requirements on senior certificates, especially with internship availability. However, ISP being a more flexible program, allows students more leeway in designing and executing their senior project. 
"The student's project doesn't have to be just a portfolio of the series of classes that they've taken," Young said. "It's really cool leaving it [the senior project] open-ended, because it is independent studies."
Among all four grades, the ISP team is also looking to expand and continue team-building activities from last year to create a sense of cross-grade unity, and is actively encouraging all students to get involved in clubs and organizations. 
"There are certain things that we can't do, that we would typically be doing if we were in the building," stated Principal Mark Carothers told Poolesville Pulse staff. "But I am very proud of how all four heads of houses have still, in their own ways, tried to focus on building that community with students."    
About the Writer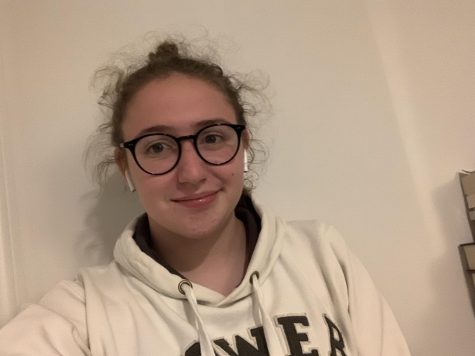 Sophia Brandt, Staff Writer
Beat: MCPS News

Sophia Brandt is a junior in the Global Ecology Program. When she's not writing or doing homework, she's usually swimming, creating...