Poolesville staff make TikTok video compilation in honor of prom rescheduling
Because of the current state of emergency and stay-at-home orders, Poolesville High School has recently announced that prom, that was previously scheduled for April 24th, has been rescheduled to June 9th. This however, was before school was called off for the rest of the school year, so it is anticipated to be reconsidered once more. 
Each year, a group of staff members calling themselves the "Staff Infection" perform at the talent show in the winter, however could not perform this year. Because the rescheduled prom had not been announced yet, teachers suspected that prom was not going to be able to happen on its regularly scheduled date. Therefore, Mrs. Clowe revealed how the group created their new idea during quarantine. 
She noted that they wanted to take videos of the staff performing the choreographed Staff Infection routine, however it was difficult to film and edit, and someone proposed creating TikTok videos instead, and the idea caught on very quickly.
Poolesville High School teachers and administration banded together to create a video for the entertainment and enjoyment of the Poolesville community in which they dressed up in formal wear or black and gold and danced to viral TikTok songs. The app is most notorious for the dances that are created and performed by its users. 
The video begins with a short statement by Global teacher Ms. Clowe. She states that while prom could not occur on its expected date, to "enjoy these videos of teachers dancing, some of them in formal wear, just for you, because we love you, and we miss you."
Each person created their own video and all videos were compiled together into one YouTube video and sent out as an announcement by Mrs. Hicks on MyMCPS Classroom. Some teachers performed viral dances that are made and performed by many users already. Mr. Gardener did Drake's viral "Toosie Slide" wearing his fedora, but dressed up in a metallic silver accented vest. 
Some teachers chose to include their families in their videos. Mrs. Nagy included her husband, son and daughter in a dance to the Camp Rock soundtrack. Mrs. Rivera-Rivera danced to Latin music with her family. 
While some teachers danced to trendy music, others chose their song because of their theme or message. Mrs. Heaton took her own spin on the trend, where she dressed in formal wear and danced to the song "Mi Gente". Mr. Hand also danced to "Happier," a song by Marshmello. He pet his dogs as me mouthed along to the lyrics "I want you to be happier." In his opinion, he wanted the song he danced to contain a message for Poolesville students. 
"I like the lyrics… and felt it was a good way to encourage people to be positive." 
Mr. Hand also commented on how he believes the video impacts the Poolesville community as a whole. 
"I hope people enjoy seeing a different side of the Poolesville staff and that it makes them smile. I think it is good to see each other's faces. We can't be in school together but this is a way to help us feel more connected." 
Mrs. Clowe, who began the video with a verbal message, discussed how easy it was to come up with an idea and create the video, as most teachers were very willing to contribute and had a general idea on how to create a TikTok.
"Normally, when we do Staff Infection, I have to email 87 times and beg and stop people in the hall and cash in favors in order to get them to participate.  For this, I sent one email to the school and was bombarded with teachers saying that they wanted to participate.  I was overwhelmed with the love." 
Mrs. Clowe also commented on how the influx of positive comments and appreciation of the video filled her with joy. 
"And then, after it was all together, I just lost it.  I could not get through recording that little intro bit without crying.  That's why my eyes are all puffy.  My husband was like- 'What are you doing?  Just sitting in the hammock and crying?' And I am all- 'I just miss the kids so much.  Do you think they know how much we love them?'"
Leave a Comment
About the Writer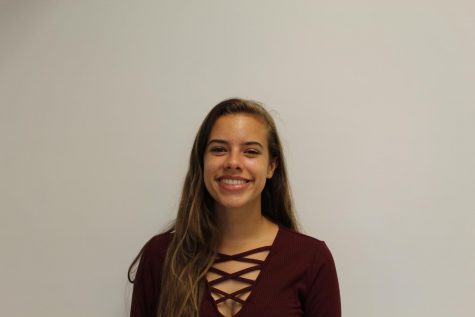 Madi Repass, Staff Writer
Madi Repass is a Senior in the Humanities program. This is her first year writing for the Poolesville Pulse, but she has always loved journalism and creative...