Drama in the Drama Club: The Midnight Players' Searched for a New Director
The high school theater season is upon us, when what seems like every high school in the county is opening their curtains for their Fall production. This year, the Midnight Players are presenting Miracle on 34th Street, but a little more than a month ago, such an event did not even seem possible. Over the summer, the Midnight Players' previous director, Nathaniel Gordon, stepped down. Thus began the frenzied search for a new director. If they didn't find one by late September, the group would have had to either go with a student-produced Fall performance, or completely forgo a fall production this year.
Junior Evie Scott, Stage Manager for the Midnight Players, and Assistant Principal Mrs. Jennifer Herman, were both members of the hiring team. Overall, they had been looking for a candidate that could work well with students and had good directing experience in the past. What was especially enticing about the director they chose in the end, Billy Lewis, is that he was also an alumnus of Poolesville and former member of the Midnight Players.
According to Herman, "[Billy's] a former student of Poolesville, which I thought was a really neat thing that he wanted to come back and build this program. He definitely had a vision for the theater program, and he wanted to do more modern shows which resonated with the kids on the panel."
Having a director again didn't mean it was time to relax though. Already feeling behind, the actors still had to wait for Lewis' credentials to go through in order to actually communicate with him about the production. Before that, they had to juggle responsibilities—such as choosing and ordering the play, and running auditions—by themselves. On top of that, they could only communicate with the new director through Herman until he was finally approved. By then, they were already on the second day of auditions (Lewis). 
Of course, a new director also means changes to direction style. Juniors Colleen Hueing and Brooke Speed, both actresses in this Fall's show, have also worked with former director Gordon in the past. From their perspective, Lewis having formerly been in Midnight Players gives him a relatableness that's easier for the students to connect to. Thanks to this past experience of having been a PHS student and Midnight Player, he tends to be more relaxed about rehearsal attendance, which has been stress relieving  for students in such an academically focused high school. Hueing also mentioned that going forward, she hopes to "have more student input on the shows."
As the new director, Lewis personally hopes to work more directly with students, to make sure they feel as connected to their roles and the show as possible. He is also planning on expanding Midnight Players beyond the two productions each year, including improv classes throughout the school year and a cabaret show in the spring. Lewis also wants to work on fixing a new aspect of the theater each year, such as new lighting grids and speakers. 
Despite the bumpy start this year, the Fall play is rolling steadily along. Don't miss Miracle on 34th Street Dec. 12th at 7 p.m., Dec. 13th at 7 p.m., and Dec. 14th at 2 and 7 p.m. Tickets start at $8.
Leave a Comment
About the Writer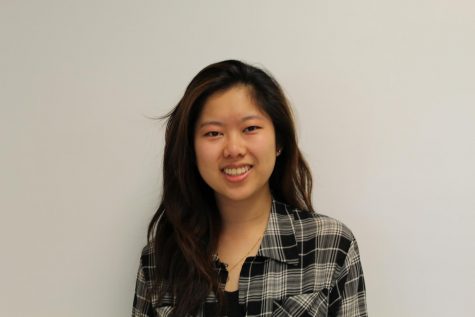 Mandy Hsu, Staff Writer
Mandy Hsu is a Senior in the Humanities house. This is her first year writing for the Poolesville Pulse. In her free time, she likes creative writing,...