Student-created art takes over the Falcon Foyer
The National Art Honor Society (NAHS,) one of a number of honor societies at Poolesville High School, hosted an annual art auction during the last two weeks of December before winter break. The NAHS, is sponsored by art teacher Ms. Shannon Heaton and has many members, mostly seniors, with interest in the visual arts. The students involved in NAHS were tasked with creating a work of art, whether it be a painting or a multimedia piece, that was then sold through a silent auction. This year's theme was "Inspired by the Greats," which gave NAHS members the opportunity to create works of art in a variety of mediums based on the pieces of famous artists from the last several centuries. This differed from previous years when the students were required to alter existing pieces of art using their own styles. Maddy Peek, one of the officers, believes that this year's theme "is really fitting for young artists like members of NAHS because we're in school, just beginning to come into our own, and understanding the work of those who came before you is really important."
The students began work on their pieces in September and spent several months getting them ready for presentation and sale. Mandy Mossman, the NAHS historian, noted that "there was a lot of freedom for the artist to do a piece that inspired them," which paved the way for a variety of unique works of art that gave the students of NAHS a real opportunity to express themselves. Maddy also remarked that "the overall quality is so much better than last year," with numerous pieces created in mediums like photography and ceramics, which she stated proved challenging to produce in previous years when the students were restricted by the requirement to alter existing pieces of art.
This year's theme turned out a wide variety of ] art, all inspired by famous artists, ranging from Dutch Baroque painter Jan Vermeer to American pop artist Keith Haring. Julie Corfman, one of the officers, created embroidery inspired by The Great Wave, a well-known print by the Japanese artist Hokusai. She stated, "I did embroidery last year, but it didn't turn out that well, but I really liked the process of doing it, so I looked at some inspiration pieces to create mine."
The students had the freedom to decide which medium to use and what materials to incorporate, resulting in art that greatly showcased the students' talent and skill. "I think it's a great display of the artistic talent we have at Poolesville that we often don't get to see," observed Mandy, who has enjoyed getting the opportunity to interact and collaborate with other artists as part of the National Art Honor Society.
About the Writer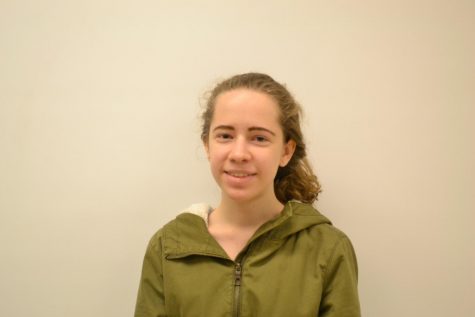 Hannah Fedorov, Staff Writer
Hannah Fedorov is a junior in the Humanities program. This is her first year writing for the Pulse. She is also a member of the National Honor Society.