Featured Falcon: Student music producer and rapper Kevin Song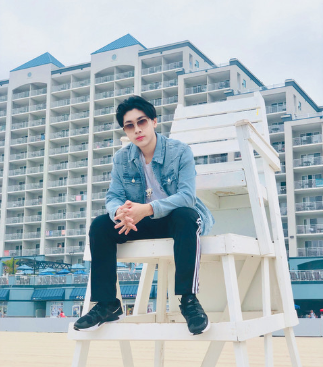 Kevin Song is a senior in the SMCS program who raps professionally on streaming platforms.
What prompted you to make music?
Hmm… there were many things that led me to start my musical journey. I remember the first time I sang karaoke with my family, I felt empowered and confident as I imagined myself being onstage in front of a large audience. I also remember listening to Jay Chou's albums as a child and being amazed at how the lyrics packed a powerful message while having a catchy tune. Seeing how music opens doors for creativity and self-expression sparked my love for producing music and performing on stage.
What genre do you sing?
I mostly make hip-hop and rap music.
Do you plan on branching out into any other genres?
Yes! I'm always looking to experiment with different sounds and mix a variety of genres in my music. I hope to explore and show different sides of myself through the songs I release.
Do you make money off of Spotify and other streaming services?
Yup, so make sure to stream my newest song, SEASTAR, available on all platforms! Also, be on the lookout for an album in the near future
Do you plan on continuing your rap career beyond Poolesville?
Definitely! Producing music has allowed me to learn a lot about myself. Whether I'm playing chords on my keyboard or penning lyrics on paper, I'm able to unplug from the hustle of everyday life and self-reflect, self-evaluate, and recharge. I look forward to having music production as a life-long hobby.
How old were you when you first started?
Hmm… I think I started when I was around 11 years old. The first time I performed was for my 5th-grade graduation, where I performed the rap part of "See You Again" by Wiz Khalifa and Charlie Puth. I started writing my own songs in 7th grade, but it wasn't until 9th grade that I released my first song, "Vote," for my campaign in the PHS Freshmen Class President elections.
Did any particular artists influence your songs?
I'm inspired by a wide variety of artists, such as Kendrick Lamar, Eminem, Jackson Wang, Jay Chou, and BIGBANG. I've listened to them since I was little, and they've empowered me to be unafraid of expressing myself.
Who helps you create your music? Or do you do it alone?
I usually collaborate with other producers who help create my music. I've worked with Gupta Beats (Utkarsh Gupta) on many of my songs ("Bubble Gum," "24/7/365," etc.), and I've also recently collaborated with Ezequiel Vanegas on "SEASTAR." I also plan on self-producing songs in the future, but I'm always open to working with anyone.
Have there been any bumps in your music career? If so, how did you overcome them?
That's a great question. There were definitely huge learning curves in the process. From discovering my rap voice to building my stage presence and composing music, there were lots to learn. To build my skills and experience, I would experiment with different themes, flows, and tones, and also take any opportunities to perform at events, such as open mics and talent shows. (Speaking of talent shows, I'm actually performing at the PHS Talent Show on Jan 25th, so make sure to watch my performance!)
How do you balance your rap career with your academic career?
During the weekdays, I'm usually very busy. You'll probably see me spending most of my time doing school work, hosting club meetings, or brushing up my dance skills with the dance team. Over the weekends, I dedicate an hour or two to focus purely on producing songs, which helps me stay focused and productive in my academics and music.
What song was most difficult for you to write? Which one is your favorite?
Looking back, I think the song that was the most difficult for me to write is "SEASTAR." Not only is it a more personal song, but I also had lots of concepts and ideas, which made it difficult for me to nail down the direction of the song. I wanted to ensure that my message and emotions would be clearly conveyed through the lyrics and melody. My favorite would probably be "Math God," a parody of Eminem's "Rap God" that I made for my BC Calc project. My math teacher, Mrs. Ackerman, assigned us a "TikTok" project where we could reflect on the things we learned throughout the school year. I had lots of fun cleverly incorporating advanced math concepts through my lyrics and recording a short skit for the project.
What do you enjoy most about the music industry?
I really value the freedom and creativity that comes with writing your own songs and composing your own melodies. It's the perfect avenue for self-discovery and has helped me grow so much over the years. With music, the possibilities are limitless.