Midnight Players Dressing Room Flood Spotlights PHS Construction Issues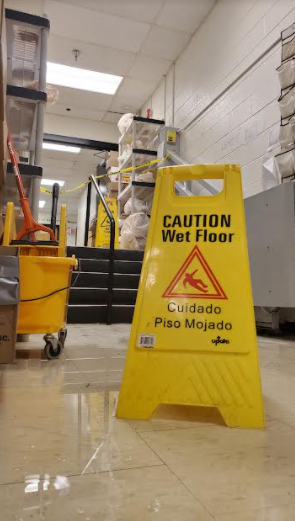 On Monday, May 23, the dressing room and makeup room area for the Midnight Players was flooded after a pipe burst caused by ongoing construction. This was the beginning of a series of flooding incidents in both the main building and the science building. The source was believed to originate from the showers and toilets nearby, which caused almost 2 inches of water to accumulate in the dressing room. Many props and costumes caught in the flood were significantly damaged, most were damaged beyond repair. The Midnight Players sustained $3.5 to $5k in damages to the costume supply. In response, student member of the Midnight Players costume and makeup team, Virgil Robinson, announced a bake sale over social media at the K2 Cafe on Friday, May 27th. The fundraiser invited students to watch performances from the Midnight Players, and support the production of future plays by buying baked goods from the cafe.
As the situation escalated, bathrooms in the main building were closed one day after the conflict in the dressing room due to a resurgence in flooding. Two bathrooms were left open in the main building during the school day. There was also a flooding occurrence in the science building due to drilling nearby, which closed off part of the building.
Following the flood in the dressing room, members of the Midnight Players relocated a third of the items to the stage in a process that took around three hours. The tech area for the Midnight Players was also partially affected,
The floods are one of the many consequences of ongoing construction in Poolesville High School. Hallways throughout the school have been closed off due to construction, forcing teachers and students to relocate to a growing number of portables. Exposed pipes, wires, and shipping containers are commonly found across campus with no further explanation. Online Donations to the Midnight Players are still available and encouraged through their Instagram bio, @phsmidnightplayers.