Bat Boy Bill: Turner's experience with the Washington Senators
Not many people can say they were a Washington Senators' batboy, but Bill Turner can; he was a batboy for the Washington, DC baseball team from 1956 to 1959. He was just fifteen years old with big dreams of being in the Major Leagues. Although he never made it to the MLB, his role as a batboy allowed him to meet some of the Major League players. Being so young, he made a deal with his parents to have all of his school work done before or after games. His parents were supportive of his job on the team because they knew how much he enjoyed it. His friends, however, were a little envious, as Turner was meeting all of their baseball heroes. Turner says that he learned a lot from being on the team. From baseball tips to life lessons, he learned something from everyone on the team, and even though he wasn't playing, Turner says the players treated him like a teammate. 
Turner couldn't stay on the team forever, so after high school in 1960, he went on to play baseball at the University of Maryland. He often jokes that if he had stayed with the Senators for one more year, he would have been Bat Man! He studied law and soon became a judge. Turner cherished his time with the Senators and is still the Nats' number one fan. 
How did you become a batboy?
A friend of mine worked in the concession stands at Griffith Stadium. I bugged him to get me a job there also. After two years of bothering him, he got me a job. However, the concession stand was "under" the stadium seats…so I didn't get to see the games. But as luck would have it, the bat boy [at the time]  came to that stand to get food for the players not playing that day, I got to know him real well, and at the end of the season, he told me he was going off to college and would not be batboy the next year. I asked him if I could have his job and he took me to the Clubhouse Manager and he interviewed me and gave me the job starting the next year. Just lucky and being in the right place at the right time!  
What were some of the tasks you had to complete as a batboy?
My jobs were:
1. Before the game, I would make sure there were towels, chewing gum, sunglasses, and other odds and ends in the dugout so the players could use them during the game. 
2. During the game, I would retrieve the bat after the player hit and get it off of the field so no one would trip on it. I would also run after foul balls and get them off the field. 
3. After the game, I would help clean off their shoes for the next game. Also, I would clean the umpires' room and stock it with soap, towels, drinks, etc. Then I could go home!  
Who are some of your baseball heroes that you met while being a part of the team? 
Obviously, all the Washington Senators players (Roy Sievers, Harmon Killebrew, Pedro Ramos, etc.). But also… [in] my first year, the Major League All-Star Game was at Griffith Stadium, so I got to be with many, many Hall of Fame players: Ted Williams, Mickey Mantle, Whitey Ford, Yogi Berra, Al Kaline, and others. What a thrill! 
How much did you get paid? 
My first and second years, I earned $2.50 a game (usually I worked every game, but sometimes I was sick or on vacation. There were "ball boys" that took my place.) My third year, I was paid $5.00 a game. My last year, I "pitched batting practice to the pitchers" (what a privilege!) and was paid $10.00 a game. There were 154 games a year when I was there, but only 77 home games. At the end of the season, the players would "tip" us for our service. But I would have paid them for the privilege it was to have that job. 
What are some of the traits, behaviors, or experiences that you learned from the team that you carry with you today? 
Great question! I learned how important it is to train, study, practice, and do your best as part [of a team]. I learned that it was necessary to help others when needed. And most of all I learned that you can't have enough friends, but you have to be one to have one. 
What is your all-time favorite memory from your years on the team?
My favorite gift is being able to call my "heroes"…my friends.
Leave a Comment
About the Contributor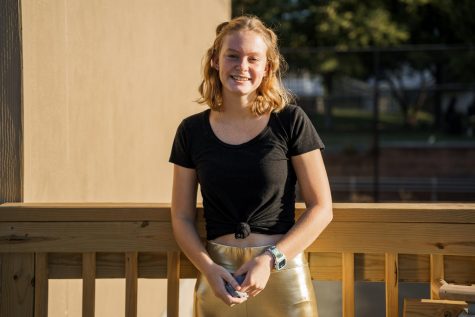 Katie Krueger, Staff Writer
Katie Krueger is a senior in the Independent Studies Program. This is her first year working with The Poolesville Pulse, but joined because her sister...