Hana O'Looney visits PHS; the first SMOB to do so in years
On September 29th, 2021, Hana O' Looney, the Montgomery County Student Member of the Board (SMOB), made an unexpected visit to Poolesville High School (PHS). O'Looney is one of the first-ever SMOBs to visit schools in the county after being elected, and one of the first to visit PHS. 
"I heard that most people never hear from their SMOBs again after the election," said O' Looney. "I want to break that precedent by checking in. This is just a way to stay connected and have a continued presence in student life." 
Hana O' Looney toured the school, accompanied by SGA President senior Filip Lukomsky and  SGA Secretary senior Tessa Brizhik. As part of the tour, she met with students, dropping by each room in the school during lunchtime to introduce herself to the students present. 
"It was great," said Brizhik. "I could tell that students were surprised to see her – I certainly was. I think that a lot of [students] felt represented and more connected to the rest of our county." 
As she worked her way around the school, O'Looney made notes about the academic culture and infrastructure. While she commended the school's diverse student body and level of school involvement, she observed that the infrastructure was not in stellar condition. However, she believed that this problem will be relatively short-term, especially as Poolesville is currently undergoing renovation.  
"I'm excited for the renovations… The school board has been working very diligently to address these concerns," O'Looney said. 
PHS is one of the many schools visited by the SMOB. By the time she got to Poolesville, she had already visited more than ten schools across the country. Her goal is to visit every middle and high school in Montgomery County, at least once per semester. If she does so, she will be the first SMOB in MCPS history to have a continued presence at individual schools after being elected. 
Her commitment to MCPS began long before her term as SMOB, however. During middle school, where she was a student at Roberto Clemente, she served as the president of the Montgomery County Junior Council, kickstarting her career as a voice of the student body. Later she became the vice president of the Montgomery County Regional SGA, organizing "tasks forces," allowing students from all over the county to be included in county affairs and advocacy.
Her other goals as SMOB have been to increase menstrual equity in schools, bridge socioeconomic disparities that persist across the county, address the mental health crisis, and diversify staff. As O' Looney continues to dedicate herself to these goals, her contributions have received recognition from all over the county, especially at Poolesville.
"[O' Looney] is an inspiration," said Anusha Krishnan, a sophomore at PHS. "She's done so much for this county – I think she's the blueprint for future advocacy." 
Leave a Comment
About the Contributor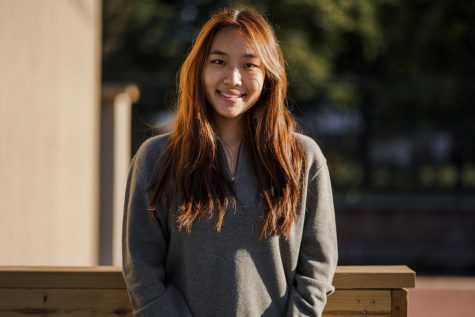 Christine Kim, Staff Writer
Christine Kim is a senior in the Humanities program. This is her second semester writing for the Poolesville Pulse, but her first semester covering the...