PHS renovation spotlights environmental commitment
This fall, as the students of Poolesville High School (PHS) returned after an extended break due to COVID-19, they returned not only to a plethora of changed social protocols (face masks, social distancing, etc.) but to a school awaiting a massive renovation. 
The construction, which is slated to occur from 2022 to 2025, will bring many anticipated changes, including an increase in the overall environmental friendliness of PHS. Contracting company VMDO Architects has planned to implement improvements that will render the building Net Zero Energy Ready— minimizing PHS's environmental footprint, adding efficiency to its production of energy, and potentially saving the school money in the long run.
Net Zero Energy Ready buildings combine energy efficiency and renewable energy sources, offsetting nearly all or the entirety of a structure's energy consumption. In addition to offering financial isolation from future cost hikes in traditional energy sources, the implementation will help lower PHS's energy consumption.
"Buildings [in general] use so much energy and having a very efficient building will be important in the coming years," Ms. Erin Binns, Head of the Global Ecology Studies Program, Poolesville resident of five years, and parent of future Falcons, said in an interview.
PHS's building, which was built in 1953 and last renovated in 1978, is currently composed of 17 build sections, none of which are properly integrated with one another. Although this has led to few daily inconveniences, the building will be more economically and environmentally sustainable if it is smoothly connected, and the renovation will allow for greater efficiency in heating, cooling, and lighting.
The environmentally friendly changes occurring at Poolesville are reflective of the long-term goals of the Montgomery County (MoCo) Government, which is attempting to reach a 100 percent reduction of greenhouse gas emissions by the year 2035. One of the first counties in the nation to publicly declare a "climate emergency", the MoCo Government is now working with Montgomery County Public Schools (MCPS) to pursue educational environments that do not contribute to greenhouse gases and are otherwise environmentally friendly. 
"It's great for school systems to demonstrate this commitment and show students action can be taken to mitigate climate change," Binns said. 
In 2017, after Wilde Lake Middle School of Howard County Public School Systems in Columbia, MD, became the first Net-zero energy school in the state, MCPS took further action to take action and combat climate change. This action has manifested itself in various ways, such as youth initiatives and town hall discussions to increase awareness of the importance of sustainable buildings, increased use of renewable energy, and increased funding for making schools like PHS more environmentally sustainable. 
As of 2021, there are 37 LEED-Certified Schools in MCPS, meaning those schools have demonstrated consideration to the environmental implications of their school's energy and water usage, as well as their carbon emissions. 38 schools have implemented Green Roofs, which are also known as living roofs. These rooftops filled with vegetation reduce urban heat, capture rainwater, and reduce carbon dioxide emissions.  
Similarly, schools such as Clarksburg High School, Quince Orchard High School, Redland Middle School, and Sherwood High School all have solar panels installed and producing energy. MCPS has more than 11,000 Solar Panels installed; however, contracting company VMDO Architects has not yet confirmed whether solar panels will be introduced as an energy-producing mechanism.
Though the renovation occurring at Poolesville has barely begun, there are some short and long-term environmental concerns that may arise as construction continues. 
"There will probably be noise pollution and erosion," Binns said, speaking of future construction. 
Leave a Comment
About the Writer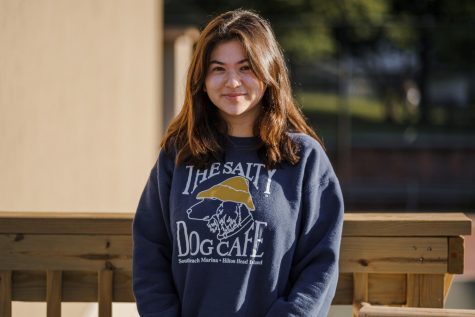 Sara Medwin, Staff Writer
Sara Medwin is a senior in the Humanities program. This is her second semester writing for the Poolesville Pulse; she joined the staff at the beginning...