1st Quarter Recap: County responds to backlash over sexual assault allegations
Amid sexual misconduct accusations and changing Title IX rules, Montgomery County Public Schools starts the school year by emphasizing a need to maintain a culture of respect and safety within schools.
Over the summer, MCPS students from at least 12 different schools made over 350 allegations of sexual harassment through social media, prompting immediate backlash from students and parents, who called for changes in health and safety curriculum. The allegations and backlash, combined with the US Department of Education's controversial changes to the Title IX rule, pushed the county to host a virtual, student-led "Let's Talk Respect" town hall in late Sept. focused on the county's harassment policies in light of the allegations.
During the town hall, the head of the Office of Student Welfare and Compliance, Mr. Greg Edmundson, walked through the county's approach to handling sexual harassment cases, highlighting their standard three-step process:
Report the incident and implement a "Safety and Supportive Measures Plan"
Investigate the report
Take appropriate disciplinary action depending on the findings
Edmundson further discussed how the county was expanding on this process in light of the allegations, including changes to the county's harassment training curriculum. After the accusations, Title IX liaisons and all secondary counselors were required to attend enhanced training sessions, while MCPS departments have developed an updated curriculum for students.
"We feel it's equally important and there's a need for student training," Senior Specialist of Student Welfare and Compliance Mrs. Kathy Greene said in a follow-up interview. "So we're now currently working on a student culture of respect module, and all students [grades 6-12] are going to be required to take it."
As per a county-wide email sent on Nov. 13, that 30-minute training will be available to students via MyMCPS Classroom on Dec. 1, with the requirement that it be completed by Jan. 29. All students will receive two Student Service Learning hours for completing the module, and county officials urge students to take the opportunity to learn how they can maintain a culture of respect.
Part of this culture is providing support for those involved in a harassment case, as the "Let's Talk Respect" town hall panelists explained while presenting the "Safety and Supportive Measures Plan" implemented during an investigation.
"We assist the school in providing supportive measures for both the victim and the alleged offender," Greene said, elaborating on the information from the town hall. "A lot of times there's stress on both ends: when you're being accused of something or a victim of something."
Supports for all parties in a harassment case vary based on the situation, but can include access to school counselors, connection with outside resources, or changes in schedule. It is MCPS's policy to believe the victim, but there is a need to provide a teachable moment for the alleged offender to help them understand the effects of their behavior on the victim and school environment. Eventually, pending the investigation's findings, the offender will face consequences in accordance with MCPS policies.
Additionally, on Aug. 14, 2020, the federal Department of Education released new Title IX rules with controversial changes. According to Know Your IX, a nation-wide advocacy organization that aims to end rape culture in schools, those changes include narrowing the definition of sexual assault to action "so severe, pervasive, and objectively offensive that it effectively denies a person equal access" and limiting the instances in which schools can act upon accusations. Although MCPS has announced that it will comply with these regulations, county officials urge both students and staff to report any incident that makes them feel unsafe.
"I don't have a great answer to where the line can be drawn [between what constitutes bullying or harassment;]…they are both things that would be addressed by the school," Poolesville High School Counselor Mr. Greg Hand said. "But, from a counseling perspective, we would be there to support the victim and…address things with the perpetrator."
It is MCPS's current policy that counselors and staff should act on any accusation they receive, even if it occurs outside of school grounds or school-funded activities. Although it is more challenging for the school to address incidences that occur outside of their jurisdiction, the incident often still impacts student well-being and the school environment, creating a need for counseling services. Counseling is also always available to any witnesses of an incident who feel as though they need support.
"We would definitely want those people [who have witnessed a triggering event] to come to us and be able to see us so we can support them," Hand said. "It would be hard to go through your day with having that [experience] on your mind."
If a student feels uncomfortable reaching out to a counselor, the county has provided a list of resources to report incidents or receive support, including several hotlines and organizations outside of the county, to make reporting accessible to all students (see graphic).
About the Writer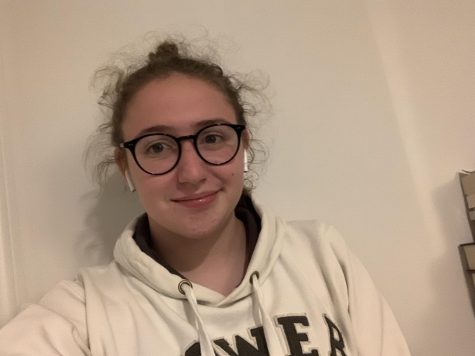 Sophia Brandt, Staff Writer
Beat: MCPS News

Sophia Brandt is a junior in the Global Ecology Program. When she's not writing or doing homework, she's usually swimming, creating...