Humanities freshman attends New York Fashion Week
Stephanie LaPointe, a freshman in the Humanities program, using her interest in fashion, created her exhibit for the Gallery Night showing: a white gown with rainbow colored flowers that look as if they are blooming out of the dress. This year, each student was tasked with creating a piece that embodied or discussed "societal plagues".
Shortly after the exhibit, she mentioned that she was asked to show her pieces in a New York Fashion Week show Stephen LaPointe, LaPointe's father, commented on this.
"I forwarded several photos to a client Janet Wood Cunliffe who is the owner/principal of Fashion Fit Formula. When Stephanie was with Janet in New York, another person in the fashion industry, Catherine Schuller (One of the Principals of the hiTechMODA Fashion Show) invited Stephanie to join the fashion show as part of their 'Rising or Emerging Designer' segment."
With the help of her connections, LaPointe was offered a place in the "Sustainability- ReGen Runway" show, curated by hiTechMODA, during New York Fashion week. The show took place on February 8th, 2020 in Times Square at the National Geographic Encounter. The main purpose of the show was to incorporate sustainable and affordable fashion practices into high fashion.
LaPointe displayed 5 different designs at the show, and went on at 5 pm. HiTechModa itself held multiple events throughout the day, and featured many experienced and talented artists within the industry.
LaPointe commented on the experience itself, as it was her first fashion show ever. While noting the excitement and haste of the show, LaPointe finished her retelling with how surreal it felt to present her work.
"You're right there in front of the runway, you're right offstage. You can see your models in front of you getting ready, and the person next to you is announcing the different designer names. It kind of just hits you that you're there."
LaPointe recalled the final moment of the show, where she had her own turn to strut her stuff on the runway.
"In this show, each designer gets a final walkthrough with all of their designs. It's kind of weird! You're just in this room, nothing really special about it. It's still so spectacular though, with cameras everywhere."
LaPointe mentioned that when she visited Glenstone, a private art museum, on her Humanities field trips, she gathered most of her inspiration for her statement piece.
"Split Rocker is there, and it's like this giant sculpture covered in flowers. I had my fashion sketchpad there with me, and I thought the concept of a mosaic of flowers was really cool." (Stephanie LaPointe interview)
Mr. LaPointe added how dedicated his daughter is to her work, mentioning her future in the fashion industry.
"Stephanie has been creating designs, sewing, knitting and crocheting for years. Stephanie's passion, dedication and unwavering desire to be a fashion designer will help ensure her success."
LaPointe continues to keep her audience up to date on her latest designs.
Follow her Instagram account, @_stephanie_lapointe_designs_, for more information on LaPointe and her looks.
About the Writer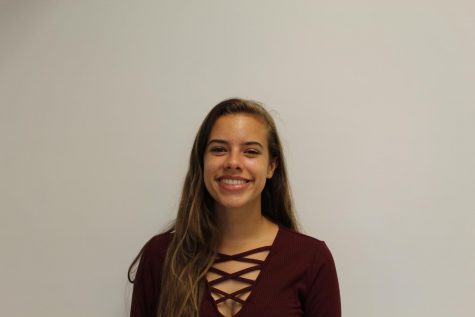 Madi Repass, Staff Writer
Madi Repass is a Senior in the Humanities program. This is her first year writing for the Poolesville Pulse, but she has always loved journalism and creative...