Xavier Kresslein aims for State Wrestling Title
Last year, Alex Carbonell brought a state championship to the high school. This year, senior Xavier Kresslein hopes to repeat history and bring another title home after finishing third at states last year. After 32 matches he is undefeated, including going 10-0 at Dorsey Duals, a wrestling meet which takes place at Poolesville, and is ranked number 1 overall in the 170 lb weight class for the season. 
Wrestling coach Tim Tao said "He's ranked number one in the state, and that includes 3A/4A schools and the private schools, so that's a huge accomplishment for anyone. [Last year] we had Alex Carbonell who was a state champion, and he was only ranked 5th in the state because of the 3A/4A and private schools."
Kresslein has been racking up the accomplishments throughout his high school career. In addition to his third place finish at states, he finished first at both counties and regionals and had an impressive 43-3 record last year. This year, he was the outstanding wrestler at Westminster duals, and came very close to having the most pins in the least amount of time at Dorsey duals. He has been a very big part to the team placing highly at the Westminster duals, Dorsey duals, and the Warriors battle at the 'Boro, as well as their undefeated record at meets. 
According to Coach Tao and his teammates, his hard work at practice is a huge part of his success in his matches. Every time Coach Tao demonstrates a new move, he'll work on it throughout practice and oftentimes attempt to use it in his very next match. He's also very open to any and all advice or criticism. Just like when he learns a new move, he'll listen to feedback and go apply it in his very next match.
Kresslein is not just a great wrestler for the team, but he's also a huge leader. Coach Tao named him a captain this season because of his tremendous work ethic and ability to lead by example. He takes on the role of a captain and helps everyone else improve. According to fellow senior captain Elias Izmirlian, Xavier Kresslein has helped fill the void left by Alex Carbonell in terms of the team's main leader. 
Kresslein himself said "I believe that I'm a good leader because I work hard, lead by example and never make excuses. I'm really excited to continue with this season and hopefully end my high school career with a state championship."
About the Writer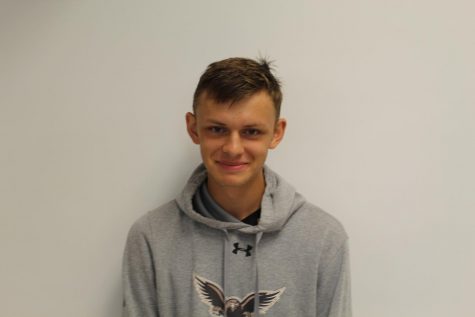 AJ Poore, Staff Writer
AJ Poore is a Senior in Project Lead the Way program. This is his first year writing for the Poolesville Pulse and he is excited to begin writing for the...