NASA simulation will collect information for future Mars mission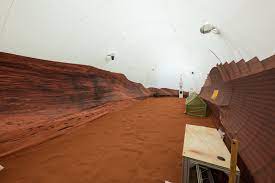 NASA's Crew Health and Performance Exploration Analog (CHAPEA), is sending four participants to take part in a Mars simulation in order to determine how to execute a future manned mission to Mars. CHAPEA will occur this June at the Johnson Space Center in Houston, Texas. 
The candidates for this simulation were selected based on NASA's usual criteria but with more priority on backgrounds in mathematics, science, technology, and engineering. Four candidates were chosen from NASA's request for participants in 2021. They are commander Kelly Haston, flight engineer Ross Brockwell, medical officer Nathan Jones, and science officer Alyssa Shannon. Two backup crew members were recruited as well. 
The participants will spend 378 days in this simulation that replicates the experience of living on Mars. There will be two more of these simulations, with the last one occurring in 2026. There will be different volunteers for each of these simulations, but they undergo the same conditions. 
The habitat that the participants will be living in is called "Mars Dune Alpha." It is 1,700 square feet and was 3D printed by the construction company ICON. It includes a living room, work area, medical area, kitchen, private bedrooms, and 2 bathrooms. It also includes an airlock that leads to an outside area that mimics an environment on Mars. 
Sophomore Paul Tang, co-president of the astronomy club, reflected on the significance of CHAPEA. 
"In my opinion, it's exciting to see NASA and JPL preparing for the colonization of a new planet," Tang said. "Living on another planet is something that we used to think of as a concept that was centuries ahead of our technology, so seeing progress on this task is inspiring and surreal."
CHAPEA's main goal is to assess crew behavior and performance to investigate the effect that a mission to Mars could have on a crew's health, and thus give NASA information on how to correct any negative effects. 
Although the purpose of this mission is to research crew behavior, for sophomore Anna Spiliotopoulos, co-president of the astronomy club, it brings attention to the likelihood of humans living on Mars. 
"Humanity could be forced to live on Mars if Earth becomes uninhabitable due to natural disasters or other catastrophic events," Spiliotopoulos observed. "Hopefully, this possibility doesn't encourage us humans to turn our current planet to waste!"
In order to properly evaluate a crew's reaction to this simulation, their blood, urine, saliva, and feces will be tested routinely and their physical performance will be monitored as well. CHAPEA is meant to fill in the "Strategic Knowledge Gaps" that are currently stopping a manned Mars mission from occurring.
Aside from a lack of knowledge about Mars' impact on crew health, there are other risks that are preventing a future Mars mission, like radiation and Spaceflight-Associated Neuro-ocular Syndrome (SANS), a swelling of the eye that most astronauts experience in different levels of gravity. 
The volunteers will experience the possible obstacles that could happen on an actual manned Mars mission, such as equipment failures, communication delays, and limits on essential resources. During the simulation, participants will face a 22-minute delay in communication and have ambient sound playing at all times to ensure that participants will not be able to hear outside noises. 
Tang brought up the issue of crew members' mental health while participating in such an isolated simulation. 
"Humans are engineered to have a sense of homesickness built into their personality so that they have the instinct to survive with their trusted individuals, Tang said." I couldn't imagine the participants feeling comfortable suppressing this instinct daily as they live isolated from society."