Morgan Wallen breaks records with latest album "One Thing at a Time", cementing him as a leading country artist.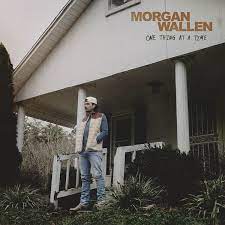 Country singer Morgan Wallen has claimed 38 of the Billboard Hot 100 spots, smashing previous records and beating out competition from other artists such as Drake and Taylor Swift. Wallen's new record marks the first time a solo country artist has topped the Hot 100 since 1975 when Glen Campbell's "Rhinestone Cowboy" spent two weeks at number one. His latest album One Thing at a Time, containing a staggering 36 songs, is the first male album to spend two weeks at number one since Harry Styles's Harry's House claimed two weeks in June 2022. 
 However in the midst of Wallen's success, some questions have been raised about the merit of his awards. In 2021, the singer was caught using a racial slur towards a friend after a drunken night out. Following the news, Wallen's label suspended his contract and he was considered unwelcome at several award shows. The controversy has tarnished Wallen's career and warranted criticism from fellow musical artists. Nevertheless, following an apology and donation to several Black led organizations, his career has seemingly bounced back. Discussion about whether or not Wallen should be awarded has divided online communities. 
"I think the court of public opinion is the ultimate judge of what an artist deserves for their actions, so if the public liked his music enough to give him those records, then I think that's a fair conclusion," said senior Will King. 
The success Wallen is now experiencing is a far cry from his humble beginnings on the musical competition show "The Voice", which saw him eliminated from the competition early on in the show's sixth season. The singer performed "Collide" by Howie Day which is a departure from his typical country style. In fact, Wallen didn't start out his career as a country artist. In his debut on "The Voice" he performed as a rock act. After his dismissal from the show, Wallen adopted a fusion of modern country and hip-hop-esque beats.
The unique sound of Wallen's music has garnered him a huge fanbase. Recently, the singer has performed massive shows at venues such as the MetLife stadium, Red Rocks, Fenway Park, and Globe Life Field. Wallen's first-ever stadium concert became the fastest sellout in Globe Life Field history- surpassing both Mӧtley Crüe and Def Leppard on the first day of sales. Some of Wallen's shows have hosted in excess of 43,000 attendees. 
"One thing that stood out about this concert was his ability to engage with the audience and ensure everyone had a good time," said senior Anna Terragno. "In the middle of the concert, Wallen walked through the audience and onto a stage in the back of the venue to perform two songs for the audience seated far back in the lawn. This allowed for everyone in the venue to get different perspectives during his show."
Fans of Wallen's have cemented him as a top country artist for the foreseeable future. With the extremely competitive nature of the current music industry, it will be interesting to see how Wallen's music fares against other popular artists in the coming years. However, for the time being, Morgan Wallen remains one of the most popular modern country artists.