Boys Track Team Makes Poolesville History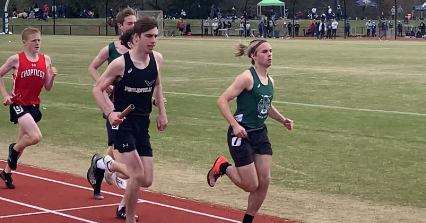 During the Woodward Relays, the boys track team broke a decade long school record for the 4 by 1600 meter relay by nearly a minute, finishing the race with a time of 18.59. The relay team consisted of juniors Billy Beane, Caleb Dastrup, Aaron Longbrake, and senior Daniel Ponciano. The team ended the race in second place after Walter Johnson High School.  
To prepare for this race, the relay team practiced distance running to improve endurance  and stamina. They also worked on their speed through track exercises involving interval repeats  of shorter distances in order to adjust to running at a quicker pace for a longer period of time.  The team attended daily practices, running long distances three times a week and doing interval  workouts twice a week on the school's track.  
However, physical exercises were not the only component of their success. To ensure  the relay team had good chemistry, the team set a goal for each race. They also made sure that  all members of the team were confident before entering the races by communicating their  feelings during warm ups. Ponciano, as the team captain and only senior member of the relay  group, was an integral part of maintaining a positive team dynamic, encouraging his teammates  to stay humble and focus on improvement rather than winning. Through this mindset, they  dropped their times gradually, improving their scores with each practice. 
"When we broke the school record we were all very proud of each other for the great  runs that we each ran," Ponciano said. "We also realized that we beat the school record by a  long time which almost felt unreal of how much time we each dropped. This was definitely a  huge accomplishment because we each know that we only get to run this relay once in the  season, so we made the best of our only opportunity." 
The race motivated them to also beat the individual goals they set for their own mile  times, allowing the members to enter their states meet with a confident and excited  mindset.  
"I believe that we definitely have a shot to send members of our team to have incredible performances at the Maryland States meet."  Said track and field Coach Prasad Gerard.
From the boys 4 by 1600 meter relay, two of the boys, Longbrake and Dastrup, got to run the 1600 meter run at the Maryland 2A States Meet, along with sophomore Dylan Derewonko.  Derewonko claimed seventh place with a personal best, Longbrake placed ninth and tied his personal best, and Dastrup placed fourteenth.  Longbrake and Dastrup also ran the 3200 meter run at states alongside relay team member Beane.  All three boys got personal bests and placed fourth, fifth, and tenth, respectively.  Additionally, Poolesville Boys claimed fifth in the 4-by-800 meter relay, with a team composed of Beane, Ponciano, Derewonko, and senior Sean Groeninger.  Groeninger also ran the 800 meter run and got ninth place, with a time just a few hundredths of a second short of his personal best.  Aside from our distance boys, Poolesville also sent sophomore Harrison Peek to compete in the 110 meter hurdles and the 300 meter hurdles.  In the 110 meter hurdles, he placed twelfth in the preliminary race and in the 300 meter hurdles, he placed eighth with a personal best.  
On the girls side, Poolesville sent three girls in the 3200 meter run, sophomore Daisy Dastrup, Junior Anna Bodmer, and Senior Caroline Simmons, who placed fourth, eighth, and tenth, respectively, and all ran personal best times.  Dastrup and Bodmer also ran in the 1600 meter run, placing ninth and thirteenth, respectively.  Poolesville girls also sent a 4 by 800 meter relay, ran by Dastrup and Bodmer, alongside junior Peri Nelson and Sophomore Ava Wagner, placing sixth place and receiving a personal best time.  Poolesville also sent sophomore Gabby Orns to run the 100 meter hurdles and 300 meter hurdles.  Orns got thirteenth place in the 100 meter hurdle preliminary race and in the 300 meter hurdles, got fifteenth place.  But regardless of the results of the upcoming meet, Ponciano is proud of the seasons'  accomplishments. 
"Beating this school record was my biggest accomplishment because we do not get to  run that event very often and this was our only opportunity to beat the school record this  season," Ponciano said.  
Ponciano also extended a shout out to the teammates who ran the 4-by-mile relay with  him.  
"We all had outstanding performances that day and we have all helped push each other  to drop our mile times in order to achieve this accomplishment," he said.