Robotics team secures first place in 2022 Turing Division
Team 4099 was crowned Turing Division champion in this 2022 competition. Poolesville High School's robotics team, founded in 2012 by a group of SMCS students, has been excelling in competitions recently. The team consists of students of all grade levels who travel around the country to compete in these high school tournaments, the most recent being Turing Division champions and Einstein finalists. 
The robotics team has competed in the FIRST Robotics Competitions each year since the creation of the team. Though not they have not won a competition since the founding of Team 4099, the Turing Competition that took place in April of 2022 rendered Team 4099 champions. However, in the Einstein Finals, their alliance battled in a tiebreaker game, causing a second-place ranking. The Einstein Finals in Houston consists of over 2,700 teams from all over the world. Poolesville's alliance of other robotics teams included Teams 1577, 4414, and 2539. 
Eckart Schneider is a junior on the team. He is in SMCS and participates in programming and the electrical aspects of the robots. While he missed his sophomore year due to COVID, he was excited for his junior year on the team. 
"We all felt ecstatic leading up to the finals. Then it felt so surreal realizing that we placed second in the world," Schneider said.
The Team 4099 community is extremely close-knit and supportive of each other. Schneider recalls that since his freshman year, the team has become more inclusive, expanding from a small friend group to new kids from different houses and grade levels. Due to the lack of wins in the FIRST Competitions throughout the ten years of being a team, this year's win was extremely rewarding. 
The team is made up of around thirty-five students who each contribute extraordinarily to the team's overall performance. Schneider claims to not have one specific job on the team, but rather contributes to keeping the team organized, making sure the robot was ready for battle, and collaborating in making the autonomous mode of the robot and programming the robot. 
According to FIRST Robotics Competition rules, robots are designed and built by students in six weeks with the help of engineers or mentors. Competitions begin in March or April, and include forty to seventy different teams. These teams compete head-to-head in a ring where robots (driven and controlled by students) have to pick up balls and throw them into a funnel-like object in the center of the ring. 
"In my senior year, I think I can expect to see a change in our robot designs as our main mentors this year are graduating college. However, I hope we can see an increased amount of recognition from PHS and MCPS as a whole for robotics as we had more than 35k people watching us live, but few people actually realized our accomplishments," Schneider said. 
Leave a Comment
About the Contributor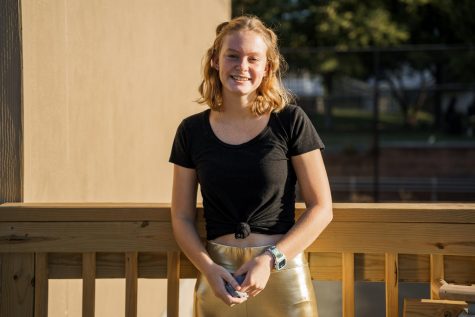 Katie Krueger, Staff Writer
Katie Krueger is a senior in the Independent Studies Program. This is her first year working with The Poolesville Pulse, but joined because her sister...