New Girls' Lacrosse coach pushes the team forward
English teacher Mr. Sean Foster has faced a new season of challenges head-on: as the new girls' lacrosse coach, he has been working to adapt to the stylistic differences of girls' lacrosse. 
As a former 5-year boys' lacrosse coach, Foster entered the season with a limited understanding of girls' lacrosse. To adjust to the differences in the sport, he read the rule book in its entirety on the first day of the season, took several classes, and spoke to multiple coaches at other schools. Foster stated that his team made what would have been a difficult transition for him easier. 
"I knew almost every girl on the team, so it was easy stepping in and getting their attention and trust," said Foster. "They were excited and willing to work with and help me learn the rules, so that made life easier."
Despite the fact that the team has a coach who is newly adjusting to their sport, the girls' lacrosse team has been achieving success, starting the season off with a 5-4 record. 
"Team practices were hectic at first," said junior Makena Heller. "But I love my team, and we've done a really good job of adjusting to this season. Mr. Foster really helps us work together well and keep our spirits up." 
Foster believes that a positive attitude is an integral part of a winning team. To maintain high spirits and close relationships, he has been holding team lunches every game in his classroom, keeps in close contact with his team captains, and promotes spirit days. 
"We have played some challenging teams, but the girls have always stepped up and pushed themselves to perform. I have been proud of how they are able to always see the growth in themselves and to apply it to the next game."
The rules of boys' and girls' lacrosse diverge as early as the start of the game – in men's games, they start with a face-off for control of the ball. To start off their game, the women perform a draw between two centers, who try to gain possession and throw the ball into the air at the whistle. Another major difference is the regulations surrounding body checking, a major component of boys' lacrosse but illegal for the girls. While boys focus on the contact aspect of the sport, girls must focus on cradling the ball to maintain possession, in large part because of the shallower pocketing of their stick. 
"The [girl's] game is more finesse than the boys' game," said Foster. "The boys' game is faster paced and more violent, but the girls' game needs a different skill level on both offense and defense."
Leave a Comment
About the Contributor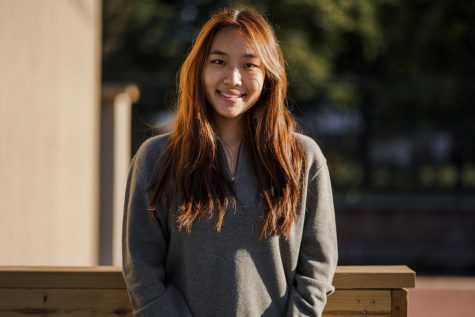 Christine Kim, Staff Writer
Christine Kim is a senior in the Humanities program. This is her second semester writing for the Poolesville Pulse, but her first semester covering the...