Spring Speedball Tournament Ends in Upset
The Speedball tradition continues, as the 2022 Spring tournament resulted in an upset over the predicted team. The game has been a tradition at Poolesville for over 15 years and it tends to get very competitive between students. Students predicted Cabras Jovenes, led by Jonah Valmonte, to win the tournament with the abundance of soccer skills on the team. First place winners Average Joe's Gymnasium stepped up in an exciting championship game. 
The championship game resulted in Average Joe's Gymnasium beating Cabras Jovenes. Players from both teams had very strong emotions following the game. Senior Matthew Griffith, a player for Average Joe's Gymnasium, said he was so excited about the win that he wore his team shirt for the rest of the school day. On the other hand, second place team Cabras Jovenes were not as thrilled. Sophomore Morgen Smith, disappointed about the loss, keeps a good attitude towards the game, noting that they played a good game but the other team played just a little better. 
"We had good team chemistry and good ball movement, we had good knowledge of what we were good at so we played to our strengths," Griffith said. Some teams went into the competition with a plan of action while others saw it as a fun, harmless game. Griffith noted that despite not practicing beforehand and forgetting the rules of the game, the team had good chemistry; ultimately beating Cabras Jovenes 2-1. Smith was disappointed with the outcome but reflected back saying that everyone contributed to the team the best that they could. 
There are specific rules to the game that each team must follow in order to play. SGA sponsor Alexandra Hicks provides the main rules that the SGA considers before making the brackets. Hicks is in charge of the logistical side of the game, making sure the score board works, permission slips are signed, and organizing all of the adults that are needed to make the tournament a smooth process. Teams must be balanced with four boys and four girls, and a player can only play for one team during that season's tournament. Brackets are carefully made, pairing senior teams together making sure not to pair a senior team with a sophomore team. The rivalry between teams begins very early on in the competition when students see the bracket that the SGA has made. The games get very competitive and intense; which is why the crowd was so pumped for the final game.
Leave a Comment
About the Contributor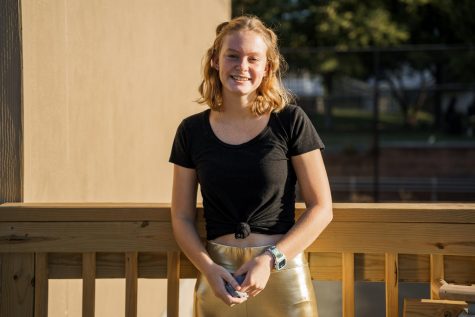 Katie Krueger, Staff Writer
Katie Krueger is a senior in the Independent Studies Program. This is her first year working with The Poolesville Pulse, but joined because her sister...