PHS girls' basketball players ranked All-Met by the Washington Post
As of Feb. 22, 2022, four players from the Girls' Basketball Team were ranked All-Met by The Washington Post. According to The Post, this distinction is reserved for the D.C. area's top athletes. These four girls are Lauren Hopkins, Alex Sosna, Leila Reid, and Lizzie Kovacs. Hopkins is ranked 31st for rebounds. Sosna is ranked 19th for blocked shots. Reid is ranked 26th for 3PT-FG. Kovacs is ranked 28th for assists.
Junior Captain Hopkins, had 117 rebounds on the season; 52 of those were offensive rebounds and the other 65 were defensive rebounds. She was a center averaging 6.4 rebounds per game. Hopkins was also a pivotal player in the offense averaging 9.8 points per game and finished off the season with 184 points.
Freshman Sosna, ranked 19th, was a guard averaging 0.8 blocks per game. Sosna felt intimidated joining as a freshman, but after the first few practices, the team felt like a family. She knew she couldn't make any excuses for herself and had to know the plays just as well as the upperclassmen on the team. She had a minor setback, getting a concussion mid-season but she didn't let that stop her. On defense, Sosna achieved 16 blocked shots, 49 defensive rebounds, and 27 steals. Hopkins and Sosna were also two of three POS players this season to achieve double-doubles: a single-game performance in which a player accumulates ten or more in two of the following statistical categories: points, rebounds, assists, steals, and blocked shots.
"It's a unique feeling being ranked 19th for blocked shots all-met. To be honest, I didn't think I had as many as I did but being 6-foot with long arms comes with its perks," remarked Sosna.
Freshman Reid, ranked 26th, knew it wasn't going to be easy coming in as a freshman, but she was up to the challenge of getting playing time. She had 48 field goals and 130 points in her first season, resulting in an average of 6.8 points per game. 
Junior Kovacs was a point guard who had 42 assists on the season. She was a pivotal player in both the offense and defense averaging 2.4 assists per game, 4.6 points per game, 3.7 rebounds per game, and 1.1 steals per game. 
"It feels good to know that I was able to help my teammates score," remarked Kovacs. 
The team faced many obstacles including COVID and several injuries but they still managed to have fun and perform well. Their season ended in the first round of playoffs against Walkersville HS on Feb. 25, 2022. They finished 3rd in the region and they ended their season with an overall record of 11-10. 
Leave a Comment
About the Contributor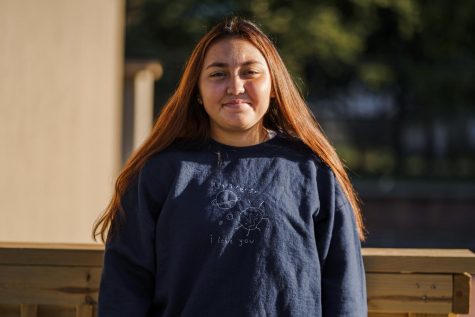 Mackenzie Saum, Staff Writer
Mackenzie Saum is a senior in the Independent Studies Program. This is her second semester writing for the Poolesville Pulse. Outside of the Pulse, she...