College decisions during COVID-19: How the class of 2021 dealt with an unpredictable application season
The college application and decision process have always been unpredictable, and for this year's seniors, it was no exception. The Class of 2021 had to navigate COVID-19 and all of its consequences: test-optional policies, a record number of applications, gap-year students taking places in the incoming class, changing finances, and a lack of visiting opportunities. 
With COVID came a massive restructuring of financial aid at many colleges. Johns Hopkins University saw 2,400 financial aid appeals this year, up from just 500 in pre-pandemic times, with $13 million spent just this past year in direct assistance to students affected by COVID-19. Institutions themselves also experienced financial strain from COVID-19.
While numbers for aspiring freshmen applying for financial aid aren't usually reported, the financial strain many families experienced this year indicates that more applicants would be applying for financial aid. For need-aware schools, like Tufts University or Colgate University, an applicant's need for aid is a contributing factor in admissions. 
"Money played a major role in my decision," said Humanities senior Kung-Bi. "I was awarded a scholarship from Parsons, and that's a major reason why I decided to go there." 
For Global senior Maher Ismail, money was a contributing but not ultimately deciding factor. "I could've gone to the University of Maryland, Baltimore College (UMBC) for free, but I chose the University of Maryland, College Park (UMD) for other factors, like the social life and the strength of my major there," he explained. Ismail applied to UMD as a computer science/engineering major. "Virginia Tech was out of state and I didn't think the extra money I'd be paying would be worth it." 
This year, students also had to rely mostly on virtual tours, as in-person visits were prohibited or unrealistic for many families. 
"The Class of 2021 didn't really have the same visiting opportunities. I didn't get to visit any of the colleges on my list," said Kung-Bi. "But, I've been to New York tons of times, so not being able to visit the Parsons campus specifically wasn't a huge deterrent to me." 
"I visited 2 out of the 8 schools on my list," said Ismail. "But I didn't get into quite a few of them, so ultimately it wouldn't have made a difference." 
"I do think the 2021 application process was a lot more difficult. We weren't in school, so we didn't have the support of teachers in the same way we would have," said Kung-Bi, who will be attending Parsons School of Design at The New School for a dual degree in Illustration and Liberal Arts. "And I applied to art schools, which meant that I had to put together a portfolio for every school I applied to. Some schools had special challenges that required me to make new pieces. It added a lot of time and stress to my application process."
Ismail, who will be attending UMD – College Park for Computer Science/Engineering, had a slightly different view. "I believe the class behind us who are applying in a couple of months will have it harder because they won't have true, authentic teacher recommendations."
Leave a Comment
About the Writer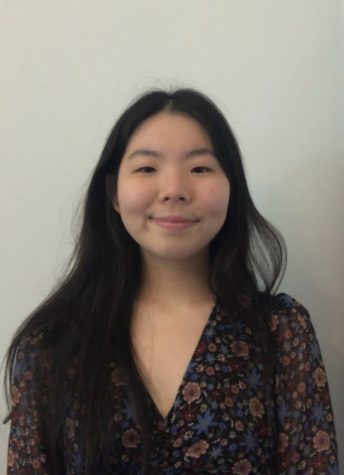 Joann Cho, Staff Writer
Beat: Current Events

Joann Cho is a senior in Humanities and this is her first year writing for the Pulse. In her free time, she tutors elementary school...