Poolesville staff deliver Class of 2021 signs to seniors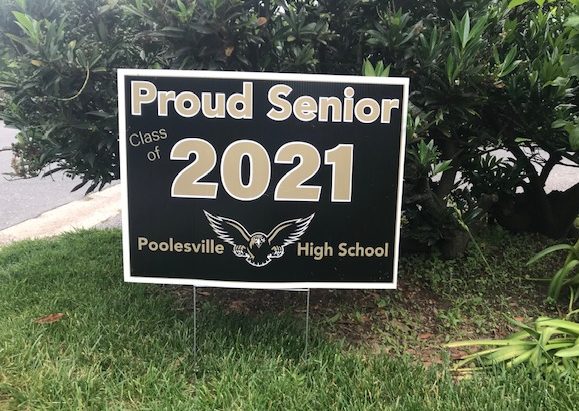 In the beginning of May, Poolesville staff delivered Class of 2021 yard signs to seniors' homes, with 46 staff members traveling to 19 zip codes to reach all 293 senior students. This was the first year that staff delivered the senior signs, as parents took charge in bringing signs to seniors last year). These signs helped build a sense of community in the midst of the pandemic and virtual learning.
In order to ensure that all seniors received signs, meticulous planning and teamwork were required. The planning process went back to early March, when Principal Mr. Mark Carothers, Business Administrator Ms. Susan Krouner, Assistant Principal Mrs. Jennifer Herman, and Senior Class Sponsor Ms. Jennifer Brennan collaborated with the MCPS Print Shop to design the senior signs. They focused on designing elements such as the color, logo, and layout.
After the signs were finished and sent to PHS, it was time to recruit staff members to deliver them to seniors. First, Mr. Carothers requested a list containing all senior students and their addresses from School Secretary Mrs. Teri Gregg, and the addresses were sorted by zip code in a spreadsheet. Next, Mr. Carothers sent an email with the zip codes to all staff members, asking for volunteers to help with the deliveries. Staff members signed up for a specific zip code and responded directly to Mr. Carothers. Then, Mr. Carothers gave staff members the addresses in the zip code they chose, and each team of staff decided among themselves a plan for delivering signs to the addresses in their zip code . English Teacher Ms. Melissa Adams, who helped deliver signs to students in Montgomery Village, explained why she chose that particular zip code and how she split the addresses with Media Assistant Ms. Sarah Bastien, the other staff member serving Montgomery Village.
"I picked the Montgomery Village students [because] I grew up in Montgomery Village, so I knew where I was going and was familiar with the area," Ms. Adams discussed. "[I] thought That'll be fun to do the old neighborhoods. And then Ms. Bastien had also picked Montgomery Village. It just kind of worked serendipitously that half the students were in my classes and half were in her classes, so we were like, We'll just take each other's students, and then it'll be fun!"
Staff went to seniors' homes throughout the first week of May, which coincided with Teacher Appreciation Week. They collected their signs from the school auditorium on Friday, April 30, and finished delivering them by the subsequent Friday, May 7. This time frame was intended to give staff flexibility and to accommodate their schedules. This was the first year that staff delivered signs to seniors, and for Global senior Hope Robinson, having staff members do it was especially impactful.
"I think it's also really impactful that the teachers were the ones who delivered it, and [the] staff members, [because] that just connects the students to the staff that they haven't seen in ages," Robinson explained. "It kind of connects us back to each other again. So yeah, it definitely helps the community."
Building community was also important to Mr. Carothers, who described how he hoped the signs would impact the school community.
"First and foremost, I wanted the Class of 2021 to feel supported and celebrated," Mr. Carothers emphasized. "I know it has been a rough senior year, so I wanted to remind our seniors that they are still Falcons and still a part of our school community. I also hoped the signs would remind our seniors how proud we are of them and share that message with the various communities in which we have students."
Ms. Adams echoed Mr. Carothers' sentiments, expressing how she hoped the seniors would feel.
"I hope that the seniors will, I guess in general, not just from the signs, but I hope that the seniors will recognize that you missed out on a lot this year because of the pandemic, but you still have a lot of people who are supporting you and who care about you," Ms. Adams described. "I hope it's just a reminder to not let all the stuff we missed out on get too overwhelming."
Leave a Comment
About the Contributor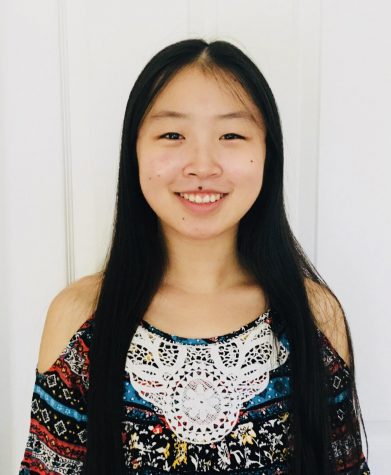 Lucy Mao, Staff Writer
Beat: Arts

Lucy Mao is a senior in the Humanities House. She likes to visit museums and explore DC (unfortunately the pandemic has disrupted this),...