Student Gatherings and Celebrations Create Large Safety Risks Due to COVID-19
Despites rising COVID-19 cases across the country and specifically in Montgomery County, high school students are continuing to gather in large groups for events and holidays. Because schools were unable to host Homecoming dances due to the Coronavirus, students across the county celebrated their own "Focos," or fake Homecomings. They dressed up, gathered their friends, and then took and posted traditional Homecoming pictures. On Halloween, too, social media feeds seemed to be consumed by large groups of people together. While some seem to take the necessary precautions, one thing that is missing from a majority of these pictures is masks. The irony is that by following CDC guidelines, they could increase the likelihood of us returning to in-person school second semester by lowering cases or at least lowering the risk of spreading COVID-19. 
According to the CDC, the number of new daily COVID cases has been rising since early Sep.. On Nov 12 there were 194,610 new cases reported, over 100,00 more than the national peaks over the summer. Even when Focos began a few months ago, there were still roughly 40,000 new cases a day. In Montgomery County, the 7 day average has been increasing and since Sep. there has been a moderate or high risk of transmission, though recently the status was changed to a very high risk of transmission. With such a high risk of transmission, wearing a mask and social distancing is essential for maintaining safety and lowering cases to make returning to normal happen sooner. 
"We don't know when the pandemic will end, but we know it depends on every individual's contribution in helping stop the transmission," states the World Health Organization (WHO) website. "The sacrifices you have made by not seeing your friends and by stopping going to school and other activities are your contributions to fighting the pandemic." 
 Though older people and people with pre-existing health conditions are more likely to get the coronavirus and experience worse symptoms, teens are not immune from becoming infected with the disease. According to the WHO, teenagers are capable of transmitting the disease even if they don't experience any symptoms; plus, severe cases and death can still happen to young people who get the Coronavirus.
"All of us take COVID-19 very seriously and don't want to get sick or risk the lives of others," stated senior Alina Hiba, who participated in a masked and distanced Foco. "Having fun doesn't mean we should be careless and stop thinking about other people. So for us, the decision to wear masks was a very obvious and easy one."
As a senior, I completely understand the desire to live out what remains of high school to its highest potential, but the current conditions require students to consider the health and safety of other people when making plans. It is extremely frustrating to see other students ignoring the rules because it interferes with every student's school year, not just their own. 
"I thought it was actually really unfortunate that some groups decided to forgo masks and safety precautions, especially because cases were spiking at the time," said junior Jennifer Light, who posted from her own masked Foco. 
With cases on the rise and Maryland reinstating COVID restrictions, in order to fight the pandemic and make safe returns to the school building and a sense of normalcy, everyone needs to be making sacrifices to regulate and restrict the spread of COVID-19. As Hiba and Light demonstrated, it is still possible to see friends in person but do so in a safe manner that reflects the gravity of the current circumstances.
Leave a Comment
About the Writer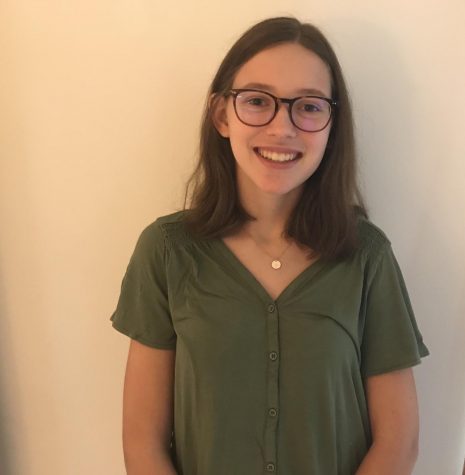 Dora Kreitzer, Editor-in-Chief
Dora Kreitzer is a senior in the Humanities Program. This is her fourth year with the Pulse and she is ecstatic to be sharing the Editor-in-Chief role...