Zoom Unexpectedly Shoots to Stardom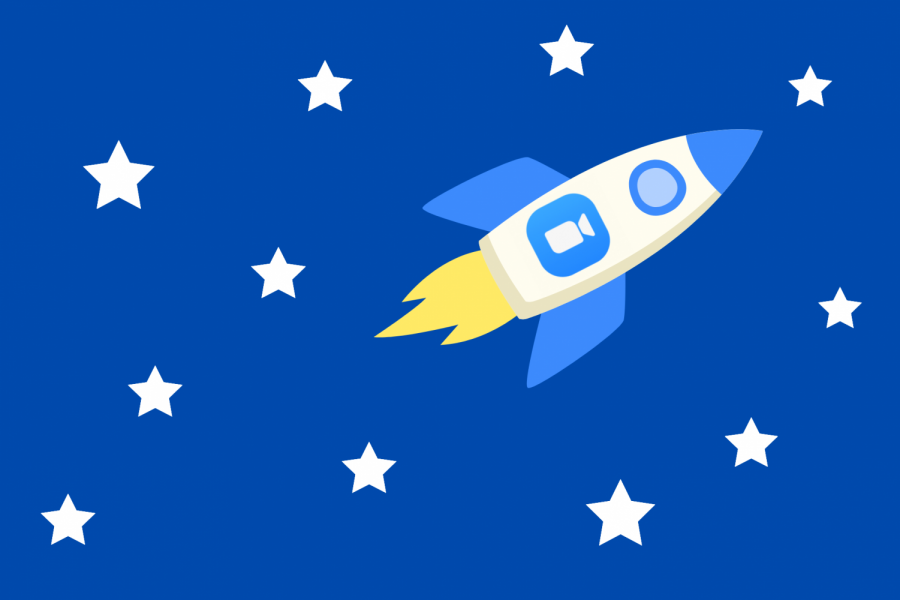 With 42.8% market share, Zoom is unequivocally America's leading web conferencing platform. But was it always this way?
It's no secret that the pandemic has put a massive strain on millions of businesses around the world – regardless of size. Zoom Video Communications, a $130 billion multinational software company, has had the opposite experience. 
Zoom was launched on April 21, 2011, making it an infant compared to the other silicon-valley software giants – Yahoo is 26 years old, Google is 22, and Facebook is 16. Even Zoom's main competitor, Skype, is 17 years old. 
Since Microsoft does not publicly release Skype's sales figures, it's hard to get an exact estimate of how much it's worth. An excellent way to gauge the platform's success is through its active user base. In March of this year, Skype averaged approximately 40 million daily users – a 70% increase from the month before due to the Covid-19 pandemic. While these numbers are admittedly quite impressive, they pale in comparison to Zoom's 200 million daily users in the wake of the pandemic – a mind-numbing 900% increase. 
This begs the questions: What is responsible for Zoom's meteoric rise to success? 
In short: timing. Following the pandemic, Zoom was the first major web conferencing platform to reach out to America's businesses, schools, and bureaucratic agencies and establish early partnerships. In a world where consistency was a rare and treasured commodity, Zoom offered order. 
"It's because Zoom is best for school partnerships." Nick Asante said, the Montgomery County Public Schools' (MCPS)  Student Member of the Board (SMOB). "The platform requires students to log in with their school ID, a precaution that lets teachers know exactly who they are dealing with. It skips the confusion of having to dig through layers of random internet usernames." 
While all schools in Montgomery County are required to teach lessons on Zoom, MCPS afterschool clubs and sports are given the freedom to choose their preferred web conferencing platform. Right here at Poolesville, both our Robotics club and Distributive Education Clubs of America (DECA) club have opted out of using Zoom for their remote meeting purposes in favor of Google Meet – a recent effort from Google to throw their hat in the video communications ring. Andrew Bempong, a senior in DECA, embraces the change.
"Zoom is just too cluttered," Andrew said. "When I log into a video communications platform I'm there for one reason: to show my face and see everyone elses' faces. Anything else really just gets in the way." 
Google Meet, unlike Zoom, also does not require users to download an application; anybody can type the meeting link into their browser and join a conference from anywhere. That isn't to say Google Meet is without its flaws, though. Nathan Grinkemeyer, A senior in the Robotics club, wishes MCPS would extend their partnership to all school-sponsored activities.  
"Google Meet lacks most of the advanced features Zoom offers," Nathan said. "It's pretty much a bare-bones imitation of the service. 
"Sure, [Google Meet] is a quick and easy alternative," Nathan added. "But it's missing things like the option to display reactions, raise your virtual hand, breakout rooms, and even lacks a chat option. The only thing it has going for it is the 'share your screen' feature, which Zoom already has anyway."
Companies are relying on Zoom just as much as our nation's schools. Musical titan Yamaha is also partnered with Zoom and uses the platform for all of its video conferencing needs. Yamaha writes a glowing review of the platform on its website, focused mainly on Zoom's collaborative functions such as whiteboards, annotation, remote control, and even Airplay support (where users can share their mobile device screens). 
With that said, it's pretty clear why Zoom is the winner here. Zoom is the social medium of COVID-19. These days, people are zooming board game nights, birthdays, and even theatre performances.  It brought innovation to the web conferencing industry when we needed it most. By allowing organizations the option for their students/employees to log in with their respective identifications, they assured consistency at a time where many people were unsure if remote working was even an option. And as Zoom continues to update its platform to improve upon their already standout features, it seems the software giant will not be going anywhere anytime soon.
About the Writer
Kendrick Groman, Staff Writer
Beat: Science and Technology

Kendrick Groman is a senior in the Humanities house. His hobbies include playing the piano, running, and driving.

Favorite...