Apple Disrupts Budget Friendly Phone Space with New iPhone SE
Despite the coronavirus disrupting companies around the globe, it didn't stop popular phone company Apple from releasing a new iPhone. The updated iPhone SE was launched on April 24, 2020, with Apple releasing a commercial on YouTube that even reached #1 on YouTube's trending page. 
The first iteration of the iPhone SE was launched in 2016, featuring an A9 processor (also in iPhone 6s and the 6s Plus) in the shell of an iPhone 5s. With the second generation, the iPhone SE features an A13 Bionic chip, the same processor in Apple's flagship iPhone 11 and 11 Pro. While the original SE came in Space Grey, Silver, Gold, and Rose gold, the new SE comes only in Black, White and Product (Red). The new iPhone SE continues to utilize a home button and TouchID but now supports wireless charging with its glass back. Unlike its predecessor, the new SE has a larger 4.7 inch screen, instead of a 4 inch screen and comes in a similar shell to the iPhone 8. The new iPhone SE currently retails for $399 for 64 GB of storage, but increases to $449 for 128 GB and $549 for 256 GB. 
Senior Pallavi Battina, "I don't really mind not having a home button but I do miss the option of it only being a fingerprint password and not a face password. Back when I first got my SE it was the newest generation I think and it's a 6 but the size of a 5 and I have small hands so it was easy to use and up to date. I think phones are too big[;] everyone used to clown on me for my little SE but that jaunt was a beautiful size and now i have the XR which is the biggest model I think and I literally have to use two hands to type and I had to get a popsocket so I can hold it".
However, the iPhone SE was met with criticism over its design, with some calling it outdated. Similar Android phones, such as Samsung Galaxy A51, which retails around $250-$400 have similar specifications while having no home button and large top and bottom bezels. The A51 has a 6.5 inch AMOLED screen compared to Apple's LCD screen. It also lacks the large screen bezels that many have criticized Apple for, utilizing an nearly bezel-less screen with a front camera hole punch and an under-the-screen fingerprint scanner. 
Battina continues, "I like iOS because it's cooler looking than Android and because lots of people have it so I get to do stuff like play Gamepigeon."
While analysts have reported that iPhone SE orders were better than expected, overall market demand for phones has dropped due to the coronavirus outbreak. Only time will tell how the new iPhone SE will compete against its Android counterparts.
About the Writer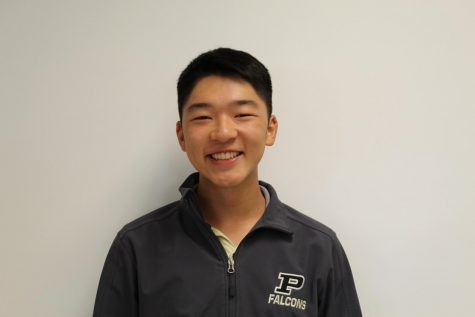 Daniel Tuan, Staff Writer
Daniel Tuan is a Senior Humanities student and in his second year writing for the Poolesville Pulse! Daniel has performed piano at various venues, such...