PHS Bocce Team Wins Divisionals
The inaugural Poolesville Bocce team won the Division IV Championships earlier this month after success in the regular season. The team played their winning match at Quince Orchard High School on Feb. 1. Going into divisionals with a 3-3 record, the team didn't anticipate much success, so they were thrilled about their victory.
"We're the best team in school history!" shouted freshman Bradyn Bliss at practice after their win. The team, in its first year at Poolesville High School, was very excited about their divisional victory, beating the four-time division champions from Northwest High School. The team was also surprised: they had not expected to make it very far as a first-year team, especially considering nearly all of their members had never played bocce before the team's first practice in the fall.
Bocce is played by rolling a marker ball, called the pallino, onto the court, and then the teams take turns rolling larger balls with the goal of getting the most balls closest to the pallino. Bocce is a MCPS Corollary Sport, also called a unified sport. The goal of these sports is to "increase interscholastic athletics participation opportunities for all students, in particular students with disabilities." In bocce, 50% of each frame must be played with a student with a disability, which promotes an environment of respect and collaboration between all students.
The team members have strong relationships and share traditions before each game. They tease each other about the team's superstitions, like the tradition of the blue pallino. Blue-colored pallinos are rarely used in MCPS bocce games, but when Bliss put the team's blue pallino in his pocket for a game, they started a winning streak. Now, they squeeze it before every game. They also share a joke about a "bocce ghost" that magically makes balls turn, start, and stop moving.
 "We just have so much fun. Everyone's encouraging to both teams, whether it's your team or your competitor," said Hallie Maytin, a senior on the team. Several bocce players also play other sports at PHS, and they noted how uniquely supportive the bocce team is compared to other sports.  
"It's so much less competitive [than other sports]. At the actual meets, someone will have a really good shot, and even if it knocks out one of our shots, we're excited for them too, which is really nice. It's different from any other sports team because it's just not as competitive but it's still fun to play," said Alaina Shields, a senior who plays both bocce and softball. 
The team has also seen strong support from the community. Local pizza restaurant Cugini's sponsors the team and the team's t-shirts sport their logo on the back. Inside the school, the team has seen support as well. Both the boys and girls basketball teams have come out to support the bocce players, as well as other students, staff, and administration. PHS Bocce hosted Watkins Mill High School for Poolesville's second regular season match, and nearly all the bleachers on the PHS side of the gym were filled with supporters. 
Leave a Comment
About the Contributor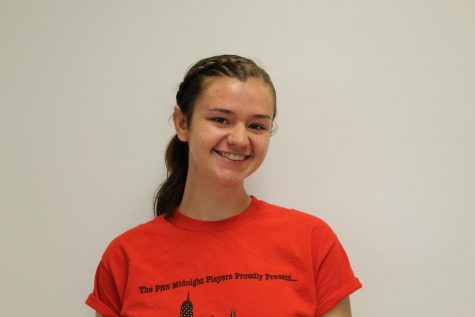 Lizzie Phelps, Staff Writer
Lizzie Phelps is a Senior in the Humanities program. This is her first year writing for the Pulse and she is very excited to be part of the organization....