Olivia Jade returns to Youtube after college scandal 
Advertisement
The fall and winter is a stressful time for high school seniors, as it is the time when they begin their application and acceptance time into college. However, some seniors have more of an advantage than others in their admittance into universities Olivia Jade Gianulli and her celebrity parents, Full House actress Lori Laughlin and fashion designer Mossimo Giannulli, were implicated in operation "Varsity Blues" to be involved in a large scheme of upper class parents attempting to rig the college admissions process for their children and were accused of bribery in order for Olivia Jade to be admitted into the University of Southern California. (CBS News) Although this occurred in late 2018, the events unfolded to media sources and the public in March of 2019. (Wikipedia)
Although Giannulli had little interest in competing on the USC rowing team, her parents paid the coach a $500,000 bribe for her to be prospective member of the team, allowing her admission to the university. (Wikipedia) Sources have debated whether or not Giannulli actually knew about this taking place. Giannulli's parents also paid a person to help her complete her application, as she was unsure how to. (People)
Giannulli is a beauty and lifestyle vlogger who often posted Get Ready with Me (GRWM) videos, as well as collaborations with other YouTubers like her. Once she had committed to go to USC, she discussed her feelings about it on her channel.
"I do want the experience of like game days, partying … I don't really care about school, as you guys all know." (Olivia Jade, YouTube)
After the scandal was revealed to the public, Giannulli had negative messages flooding her social media to the point where she disabled the comment section on her posts. (Buzzfeed) In addition to the public backlash, brands that had partnered with Giannulli, like Sephora and TREsemme, cut ties from her. (Teen Vogue)
Since March, the Giannulli family has remained secluded and have not made many public appearances. However, Olivia Jade posted a short video on her YouTube channel titled "hi again" on December 1st discussing her absence from the website. (Youtube)
"Obviously I've been gone for a really long time, and as much as I wish I could talk about all of this… I'm legally not allowed to speak on anything going on right now." (Olivia Jade, YouTube)
Some influential celebrities commented on Giannulli's comeback, such as Wendy Williams. 
"Your parents rigged the system and your mom's going to jail… You waited nine months. Too soon, little girl" (Yahoo News)
Taylor Ramirez, a graduate of PHS and a current freshman attending George Mason University, mentioned her feelings about this scandal. 
"As a college student it was really discouraging… because so much time and effort is spent working on applications, test scores, and scholarships. If I attended the same school as someone like Olivia Jade… I would feel like I did not trust my university." (Ramirez Interview)
Pallavi Battina, a senior in humanities at PHS commented on her college application process compared to that of Gianulli's. 
"Our whole lives, students have been led to believe that where we go to college depends on our our levels of academic or athletic success…What the Olivia Jade scandal exposes is the fact that for members of the upper class, getting into college is as easy as signing a check. I don't feel like someone who hasn't worked hard and just depended on their family's money should be allowed into a college over me," said Battina.
The response to the scandal on social media has made it clear that what the Giannulli family has done to get their children into college won't be as easily tolerated in the future. Celebrities and students alike agree that college admissions should be based on more than how much money a family can pay, especially if it is illegal to use this as a deciding factor. 
About the Writer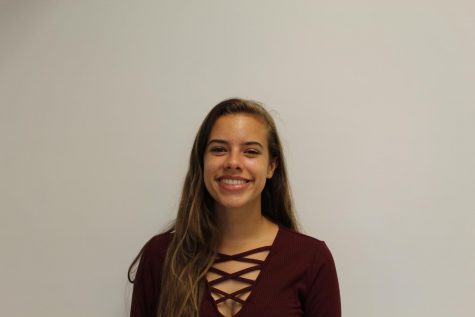 Madi Repass, Staff Writer
Madi Repass is a Senior in the Humanities program. This is her first year writing for the Poolesville Pulse, but she has always loved journalism and creative...