Why we should erase the stigma of teenagers trick-or-treating
Starting last year, the town of Chesapeake, Virginia, received heat and judgement from media outlets and citizens alike for setting an age limit on who is allowed to trick-or-treat. The age limit, which was previously 12, was set in 1970, but never enforced until the town recently raised the age to 14, with threats of jail time and fines. Four other towns throughout the US have followed suit– Meridian, Mississippi; Bishopville, South Carolina; Boonsboro; Maryland; and Belleville, Illinois– and one town in Canada, which set their limit at an arguably more reasonable 16.
Setting age limits on who can trick-or-treat seems unfair; trick-or-treating is an innocent act that everybody should be able to enjoy. The government of Chesapeake decided to set their age limit after an incident in 1968, where teenagers put exploding fireworks in Halloween bags, resulting in minor injuries. Rather than punishing solely the perpetrators, the local government punished teenagers in general. 
The mayor of Belleville, when asked to justify setting a cutoff at 12, told Slate that the city government was acting as a parent for the whole town. "…Sometimes we have to make those decisions for parents who aren't being parents, maybe aren't home themselves, maybe the kids are raising themselves. It's unfortunate, but in today's world we live in, sometimes government has to make tough decisions like this." 
His argument seems logical, but it also doesn't allow the vast majority of non-mischievous teens to participate in a fun, often nostalgic activity. 
Parents and citizens who disapprove of teenagers trick-or-treating will often argue that younger children may not get as much candy, that teenagers show up too late late at night, and, because of the usually different attitude towards Halloween, will dress in scary or less appropriate costumes that would frighten or disturb children. Supporters of these laws argue that teenagers are just too old, that it's an activity for children. In reality, towns shouldn't be restricting teenagers from trick-or-treating. Nobody should dictate when childhood truly ends, and the activity is just innocent entertainment for teenagers who want to participate. Teenagers are people, and despite being stigmatized in the media, most won't cause trouble. Some teens may have reasons for trick-or-treating besides just having fun. Whether it's developmental disabilities or a new tradition for them, there should be no reason to restrict those who want to participate.
There are easy solutions to many of the problems that were presented as reasoning for the age limit, including setting a trick-or-treating curfew that may result in a fine if exceeded. Many neighborhoods have unspoken rules that when a house's porch lights are off, they are not handing out candy. Instituting these rules into the culture of the town on Halloween is a reasonable response to teenagers– or anybody– trick-or-treating. The tendencies of young children to see those older than them as role models means . As long as there is an appropriate balance and no age group is usurping a fun tradition, limits on who can trick-or-treat should be abolished.
About the Writer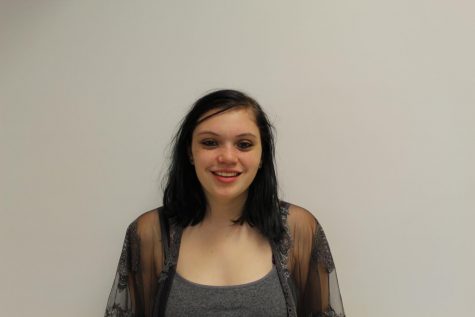 Grace Carter, Staff Writer
Grace Carter is a Senior in Global Ecology. This is her first year writing for the Pulse. Outside of writing, she enjoys singing and playing bass.

Favorite...