The arrival of Wellness Week brings de-stressing activities for students
Wellness Week began at Poolesville High School on Monday, September 23, 2019. This week was designed to feature stress-relieving activities and a fun atmosphere: music in the halls on Monday, unplugging from devices on Tuesday, therapy dogs on Wednesday, yoga on Thursday, and Latin dancing on Friday.
Students listened to music in the halls on Monday with modern classics such as 'Party in the USA' and old classics such as 'Sweet Caroline' but, even though the music was cheery, some students complained that the music was not good quality because of the schools speakers. 
"The music sounds muffled and it makes it less enjoyable" said Humanities senior Ashley Pacheco. 
Some teachers were also not enthusiastic about the quality of the music. 
"It's too loud, we need to turn it down and get better quality speakers. The music choices are great though" said PE teacher Mrs. Laurie Wohnhas.
On Tuesday, the teachers urged the students to unplug from their phones and devices and enjoy a cell-phone free day. The lessened cell-phone usage helped students interact with each other more and get their work done on time.
Wednesday was Waggy Wednesday, which brought therapy dogs to the school. Students lined up outside the gym before the lunch bell to meet the four-legged friends visiting. The gym was flooded with hundreds of students petting, adoring, and loving each and every dog present. 
"It's a good break for the students," said Principal Mark Carothers, "I can't tell who's happier the dogs or the kids" he said with a grin on his face. 
"The dogs are very patient with all the kids and they stay still to be pet, I think that helps a ton and makes the students feel like they are doing something rewarding." ISP senior Anya Speck-Mcmorris stated.
On Thursday, there was yoga offered in the gym at lunch. Finally on Friday, there was Latin dancing in the gym. A handful students enjoyed loud Spanish music as Mrs. Rivera taught students how to do different dance steps and how to spin and shake correctly.
"It was great fun and helped me blow off some steam," said Humanities senior Lena Elamin.
"It provides a break we all need, me and my friends had a great time during Wellness Week and it provided us with something to de-stress our nerves. It was something we needed especially because of college applications" reflected Global senior Clare Ntsumi.
About the Writer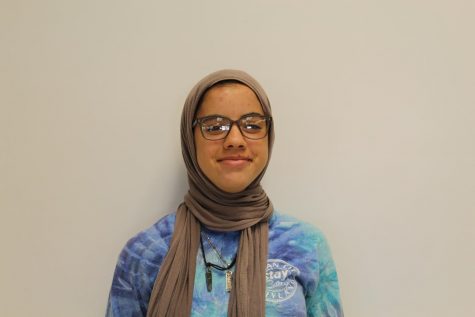 Yasmeen Elkoshairi, Staff Writer
Yasmeen Elkoshairi is a Senior in ISP and this is her first year writing for the Pulse. She enjoys playing soccer, swimming, horse back riding, and loves...