Montgomery County should continue to encourage vaccinations; here's why
Vaccinations are important because they impact a student's immunity to diseases that would otherwise hinder their performance in a school setting. While the topic has more recently been controversial, on Sept. 24th, 2019, Montgomery County Public Schools (MCPS) began a county-wide exclusion of unvaccinated students. Highlighting the importance of vaccinations against disease and towards school performance is critical to developing one's opinion around this contentious subject.
Obviously, schools do not create vaccinations just to make everyone go out of their way and make their lives worse. Rather, vaccines are measured around what's prevalent, determined by a student's age and their potential exposure to breakouts. This year, in Montgomery County, MCPS asked students in grades 7-12 to have a T-Dap and a Meningitis vaccine on file by the 24th of September, a deadline for the county. 
The T-Dap and meningitis vaccines are especially important to students for a variety of reasons. There are six different types of meningitis, with two being communicable through everyday contact in a crowded setting, like school. Being vaccinated is important because viral and, especially, bacterial meningitis can cause severe sickness and possibly death in teens.
T-Dap vaccines cover a wider array of preventable diseases, containing immunizations for tetanus, pertussis and diphtheria. The T-Dap vaccination prevents adolescents from developing unnecessary whooping cough, breathing problems, and other related symptoms. 
"Students receive lots of leeway," asserts Mrs. Janet Lee, Poolesville High School (PHS) School Nurse and SCHN. "They are given ample opportunity to receive vaccinations, even after the deadline."
However, a group known as "anti-vaxxers" refuse to vaccinate their children, because they believe it might cause physical and mental disorders in younger children. Despite their claims, there is no research into the phenomenon that supports anti-vax assertions. Their ideology is known to have brought back eradicated diseases, such as measles, which returned through unvaccinated children in 2014. While antivax supporters expect to avoid mental and physical disorders, they should really expect their child to develop disease symptoms.
"I think people fear and misunderstand vaccine information. Because of this, people don't trust establishments that produce the information [on vaccinations]," comments PHS Global senior Jacob Roe.
Ideally, when it comes to making regulations, the creation of requirements incorporates a compromise between health organization guidelines and a school's administration.
"In the health department, information is merely collected. [At Poolesville], the principal is dependent on what vaccinations are required, based on certain federal guidelines," says Lee. "The CDC gives public guidelines on vaccine requirements for a given school year."
Establishing an integral arrangement of vaccination requirements is important to every school, as it organizes a functional system that is not only easy to follow, but is also reliable for the student body and their parents/guardians. However, even with such a system, there is always a problem with people getting themselves vaccinated properly. Usually, it is a hassle for a person to get an appointment, but opportunities from public vaccination pharmacies were available for students to receive immunizations more easily. 
That being said, some people cannot receive vaccinations due to complications. People cannot receive vaccines if they have conditions that predispose them to further harm through injection. Even though this might be the case for some, most people cannot provide this excuse for their child. 
Vaccines in a school environment are necessary because they provide relief for potential diseases, keep students healthy, and make the school environment a safer place. Luckily, it turns out that vaccination participation is on an upwards trend, providing means for maintaining an environment sheltered from disease.
"I'm not certain if many children were excluded since vaccination turn-out was great this year," voices Lee.
Leave a Comment
About the Writer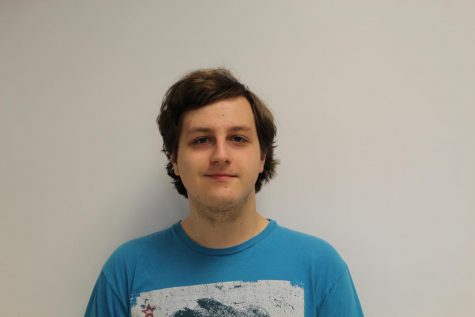 Elijah Matlock, Staff Writer
Elijah Matlock is a Senior in the Global Ecology Program. When it comes to writing, he is always interested in the latest chit-chat. From movie criticisms,...