MCPS creates BTheOne Mental Health Awareness Week, and Poolesville participates with local fundraiser
Hang on for a minute...we're trying to find some more stories you might like.
Suicide is the second leading cause of death among children and adolescents ages 10-19. To spread awareness, Montgomery County Public Schools partnered with community outreach organizations to establish the "BTheOne" campaign, dubbing the week of Feb. 25th as mental health awareness week. The Poolesville chapter of the Students Against Destructive Decisions held a fundraiser for the Upcounty Prevention Network, a local nonprofit organization in Montgomery County, that hosts events surrounding mental health and substance abuse, at a local restaurant to support mental health awareness week.
The BTheOne campaign is supported by Montgomery County organizations Everymind and Family Services Inc in partnership with Montgomery County Public Schools (MCPS). The campaign aims to provide outreach services for residents and information regarding substance abuse and suicide prevention, and provides steps for students to follow if they have friends struggling with mental illness.
MCPS dubbed the week of February 25th to March 1st "Mental Health Awareness Week." During this week, all MCPS students viewed the "Signs of Suicide" presentations regarding suicide awareness.
"The lesson is meant to complement the Montgomery County BTheOne campaign to increase mental health awareness," said Poolesville High School Resource Counselor David Gysberts.
In the second year of these presentations, students viewed videos offering information on how to handle different scenarios in which a friend is in need of assistance and support. Afterward, discussions ensued, and students were presented with the acronym "ACT." This acronym stands for "Acknowledge, Care, and Tell," highlighting the steps students should take to assist a friend in need. The program is evolving, and student feedback is essential to assessing the effectiveness of the presentations.
"From the feedback we've gotten already this year, it seems that the lesson is at least effective in increasing suicide awareness and the many warning signs," said Gysberts.
For Poolesville High School, mental health awareness week was additionally supported by the Students Against Destructive Decisions Club (S.A.D.D). This club's mission is to spread awareness of issues that teens face today, such as substance abuse, cyberbullying, sexual consent, and mental health.
"These things affect high school students regularly and our goal is to create a safe space to educate and support students on these issues," said S.A.D.D Club secretary Taylor Ramirez.
In support of mental health awareness week, S.A.D.D held a fundraiser at the Mexican Grill restaurant in Poolesville. A percentage of the money made off of food sales was donated to the Upcounty Prevention Network, a sister organization of S.A.D.D whose mission is to promote positive and healthy youth lifestyles in western Montgomery County.
"This event helped raise awareness for the important work that BTheOne does to promote suicide prevention and awareness. We had a great turnout and want to thank everyone who showed support," said Ramirez.
In the past, the S.A.D.D Club has held an information forum at the Poolesville Baptist Church, presenting information regarding suicide awareness. This information is similar to the Signs of Suicide presentation given to all MCPS students by their counselors in math classes. With this forum, the S.A.D.D Club focuses specifically on the Poolesville community.
"The feedback received from this event was extremely positive and provided S.A.D.D with the required information to lead more events to help educate the students in the Poolesville community," said S.A.D.D Club Vice President Brandon Taylor.
In a joint effort, the BTheOne campaign, the suicide awareness presentations given by counselors and the S.A.D.D sponsored fundraiser all supported mental health awareness week in the Poolesville area.
About the Writer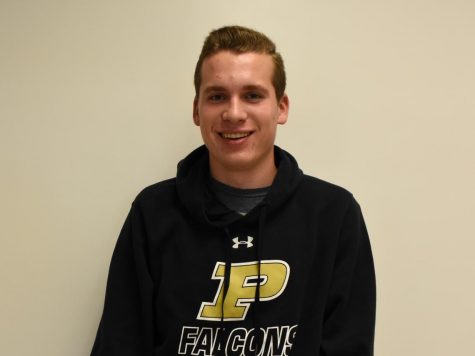 Alex Firestine, Staff Writer
Alex Firestine is a senior in the Humanities program. This is his first year with the Poolesville Pulse and he is excited to inform the students of Poolesville...