Republicans favored to maintain Senate control after Midterm elections
The battle for the US Senate is ramping up as the 2018 midterm elections are just around the corner. Fivethirtyeight election forecast show an 85% chance the GOP keeps the Senate and a 52.3% chance of adding to their majority.  Sources predict that Republicans will maintain their majority in the Senate, and could add to their narrow majority. This shows Congress will likely be divided as Democrats have a 86% chance of taking control of the house.
Senate Republicans have the benefit of a favorable Senate map in this election cycle, only defending one seat in a state Hillary Clinton won in 2016 (nine total seats), compared to Democrats defending seats in ten states President Trump won (26 total seats).
Republicans look to gain seats to add to their current narrow majority (51- 49) by targeting red state Democrats in states like Missouri and North Dakota. Democrats see a path to gaining a majority by aiding Democrats in Arizona, Nevada, Tennessee, and Texas, due to the competitiveness of the states and strong Democratic candidates.
Following the retirement of Republican Senator Jeff Flake, Democrat Kyrsten Sinema has led Republican Martha McSally. A recent NBC News/Marist Poll released on October 30 shows McSally trailing Sinema by 6 points. However, in a poll released November 1st, Sinema trails McSally by 7 points. Arizona's senate election this year is a close race and one of the most likely states the Democrats can flip. The state seems to heard towards a less partisan direction with a growing latino population – a demographic which typically votes Democrat.
In Missouri, the battle between incumbent senator Claire McCaskill and Attorney General Josh Hawley is one of the narrowest races of the election cycle. In the Real Clear Politics polling average Hawley leads McCaskill by just 0.2%. This race can best be illustrated by the fact that every poll conducted for this race from August 8th to September 14th found the two candidates to be in a statistical tie. Hawley, in a state Trump won by 16.5 points in 2016 benefited by the President endorsing him and giving multiple speeches to boost his odds of winning in November.
Senator Dean Heller of Nevada is the only Republican defending a seat in a state Hillary Clinton won in 2016. Heller is still leading his Democratic opponent, Jacky Rosen, in the most recent poll by seven points. The Republican incumbent has seen a bump in the polls, as have most Republican Senate candidates, since the confirmation of Brett Kavanaugh which energized the Republican base. Rosen faces an uphill battle very late in the game.
North Dakota Incumbent Democrat Senator Heidi Heitkamp is trailing Republican Kevin Cramer by nearly nine points. Heitkamp voted against Kavanaugh's confirmation in a state where 56% of residents supported the confirmation (26% opposed) according to an SRA poll. Voting against Kavanaugh harmed those conservative voters will likely stay home or vote for Cramer.
Republican Marsha Blackburn has surged in recent polls in Tennessee, pulling ahead of Democrat Phil Bredesen. With the support of President Trump in recent weeks, Blackburn's support has risen after holding many rallies in Tennessee activating Trump's base in the volunteer state. Blackburn has also benefited from Kavanaugh's confirmation, as she was an ardent supporter of his confirmation. Bredesen also supported the confirmation. Bredesen's decline is due to Trump voters not supporting Bredesen following President Trump's endorsement of Blackburn. President Trump is very popular in Tennessee. Bredesen may be preparing an ad dump before election day- an ad dump is where a candidate saves money during the campaign to 'dump' the money on purchasing ad time. An ad dump could put Bredesen over the top once polls close.  
Arguably the most peculiar race this year is the Senate race between Senator and 2016 GOP primary runner-up Ted Cruz and his challenger Beto O'Rourke. Cruz led by seven points in the Real Clear Politics polling average, however it is worth questioning why this race is as close as it is. O'Rourke has fundraised a large sum of money. According to
OpenSecrets.org, he holds nearly $23 Million in cash on hand. However, the race in Texas seems to be leaning in favor of Cruz, typically a candidate would spend much of this money on ads or shuffle it around to different candidates in different races. Candidates donate their campaigns money to other candidates in order to make/keep themselves popular within their party.
About the Writer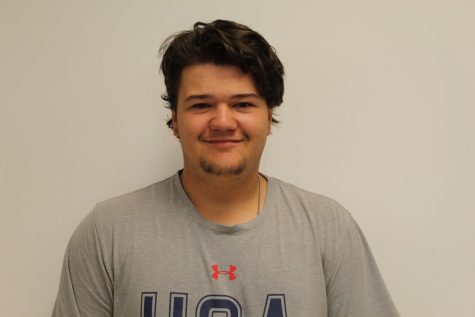 Connor Dorsey, Staff Writer
Connor Dorsey is Senior in the Independent Studies Program. He is the owner and founder of Dorsey Umbrella LLC, and plays baseball and hockey for Poolesville.

Favorite...