Looking back: what Trump's United Nations address means for the future
President Trump spoke in particular about the threat of North Korea, America's obligations as a militaristic superpower, and the role of other nations in the UN. On the topic of North Korea, Trump's words were met with controversy. On the one hand, many condemned Trump's use of the words "Rocket-man," "depraved regime," along with the statement, "totally destroy North Korea."
French President Emmanuel Macron stated, "Our responsibility to all of our partners, including China and Russia, is through resolve to bring North Korea to the negotiation table for a political settlement to this conflict, France rejects escalation." Later, at a press conference, he restated his point, saying: "Any military intervention must be avoided."
On the other hand, countries such as South Korea, Israel, and Russia applauded Trump for his low tolerance of North Korea's unscrupulous actions.  
Park Soo-hyun, spokesman for South Korea's presidential office, stated Trump "expressed a firm and specific stance regarding the important issue of maintaining peace and security now facing the international community and the United Nations."
Israeli Prime Minister Benjamin Netanyahu praised Trump, saying how "In over 30 years in my experience with the U.N., I never heard a bolder or more courageous speech." North Korean supreme leader Kim Jong Un responded to Trump's statements, calling him a "mentally deranged dotard."
"Here's a President of the United States, telling the UN body- which was created after World War 2 to facilitate cooperation and understanding amongst the different nations in the world- that the United States is looking out for itself," said On Sep. 19th, 2017, President Donald Trump gave his first address to the United Nations General Assembly.  First addresses provide a platform for which countries can talk about the general state of the world and any concerns for the future. They allow for a time during which officials can build a framework on possible solutions to the issues affecting our world. Most importantly, they let leaders voice their opinions and give others an idea of who they'll be working with in the future.
Horace Bartilow, professor of political sciences at the University of Kentucky.
Bartilow continues, "I think most counties in the world, including America's allies, have said that they found the speech very troubling. So disquieting, German chancellor Angela Merkel has said that the European Union should be charging its own course, and not relying on American leadership in the world anymore. If a country like Germany is saying, you don't need to know what other small countries in the world are thinking as well. To say we are going to do things that better America at the United Nations is to undermine the UN's very principles."
Senior Clara Jackson, a Secretary General of the Model United Nations club, elaborated on Bartillow's point.
"I believe Trump's nationalistic comments were inappropriate for the occasion.  The UN is a multilateral organization that sponsors peace and international cooperation.  Outright nationalism and isolationism should not be touted there, least of all by the US, who is essentially the chief founding member.  It's fine for a nation to push it's agenda/worldview to an extent—ALL nations do that constantly: their leaders jobs are to make sure their voice gets heard on the international stage—however the UN is designed for international cooperation and the US is a key leader and should be a moderating voice in it.  What Trump said was thoughtless and tone deaf as to what was required of the US in terms of international leadership," Jackson stated.
On Oct. 14th, it was announced that North Korea is preparing to launch another ballistic missile over a US naval drill in retaliation to an upcoming joint naval drill by the United States and South Korea, `while tensions continue to escalate between the United States and North Korea. Bartillow believes that these tensions won't amount to anything. Trump thinks that Congress- both Republicans and Democrats- will intervene before anything close to war can begin.
Leave a Comment
About the Writer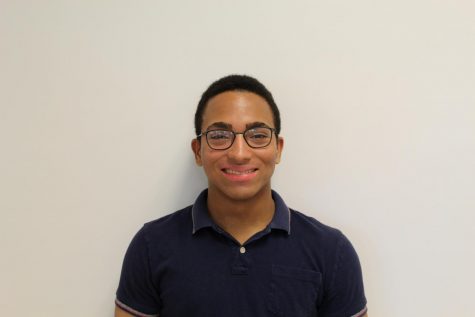 Andrew Sojka, Editor-in-Chief
Andrew Sojka is a Senior in the Independent Studies Programs. This is his fourth year working for the Poolesville Pulse, and second year as Editor-in-Chief....