Stranger Things 2: things get stranger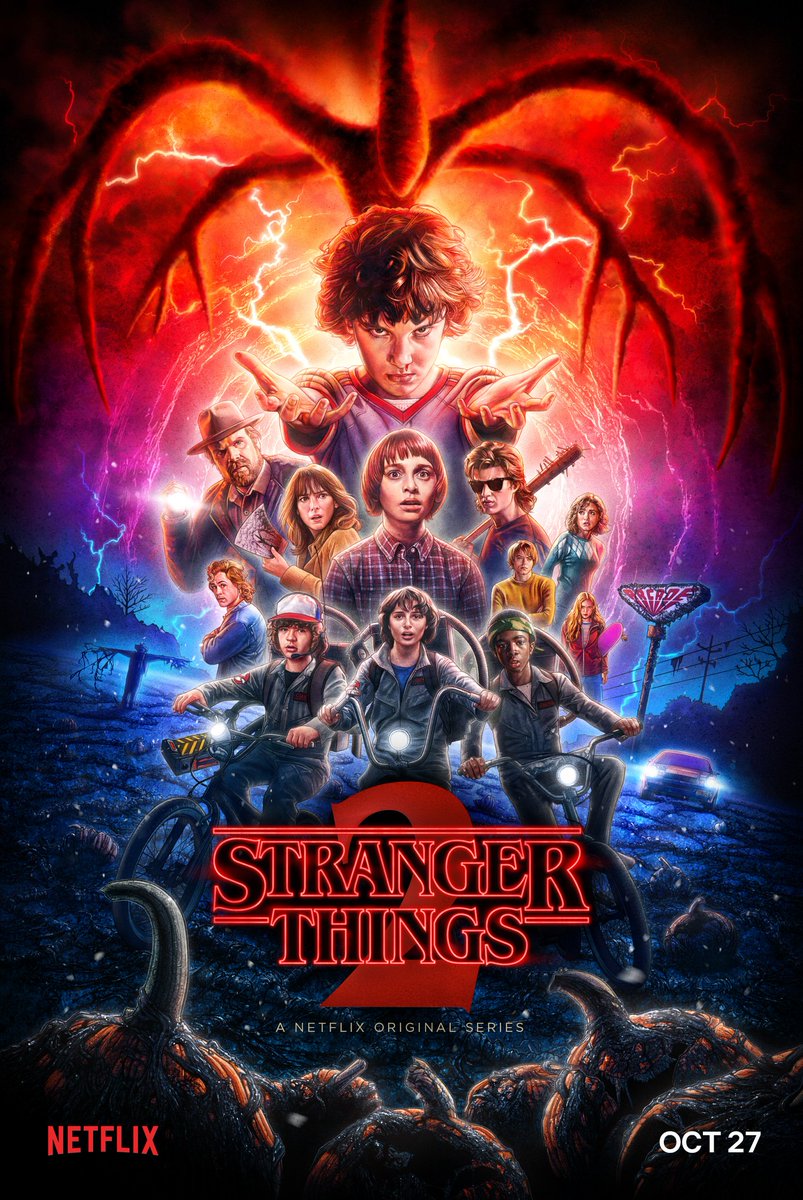 After over a year of waiting, Netflix original series "Stranger Things" is back for a second season. The series received overwhelmingly positive reviews for its first season, and devoted fans were excitedly anticipating the new season, released on Oct. 27, 2017.
The series revolved around the small town of Hawkins, Indiana, in 1983. The residents' lives are turned upside down when middle schooler Will goes missing due to the effects of supernatural testing from the nearby Hawkins Lab. The lab had inadvertently opened a portal to another dimension called the Upside Down. The second season kicks off a year after the events of the first: Will has been rescued with the help of local police chief Jim Hopper and Will's friends, but is still influenced from the entities in the Upside Down.
The second season also featured new characters such as Billy and Max, who have just moved to Hawkins, and Bob, Will's mother Joyce's boyfriend. Viewers of the show have mixed reviews on the new characters.
Junior Bryce Davis says, "The new characters add to the show, and Max is my favorite."
Some enjoy the new qualities the characters bring to the show. Max soon befriends Will's friends, while not seeming like random add-on because of her own complex family life. Bob was also involved in several major plot points throughout the story, though some viewers are conflicted over his role as Joyce's love interest.
"I hate Max and Billy, but I like Bob, even though I still ship Joyce and Hopper," commented sophomore Luke Tryhall.
Despite increased viewership, Season 2 received fewer positive responses from online critics, including a 94% approval rating on Rotten Tomatoes (down 2% from the previous season). Many people didn't like the ending, which was less of a cliffhanger than the previous season's.
Tryhall also expressed his frustration with the ending, saying, "After the cliffhanger from last season's ending, I don't think this season had the same suspense."
Since its first season, Stranger Things has had a large social media presence. The cast has racked up millions of followers on Twitter and Instagram. Recently, the Stranger Things cast has been in the news after being sexualized on social media and in real life, with people camping outside 14-year-old Finn Wolfhard's hotel. This has caused media backlash, as most of the cast is under 18. Despite the spotlight cast on them, it is important to remember that the Stranger Things kids are still kids after all.
Stranger Things is slated for a third season in 2018. Though Netflix had no official statement of a release date, directors Matt and Ross Duffer confirmed in recent web interviews that season three was officially occurring. After a dramatic year and a half of waiting for the second season, viewers of the shower are already eagerly anticipating the next installment in the Netflix science fiction show.