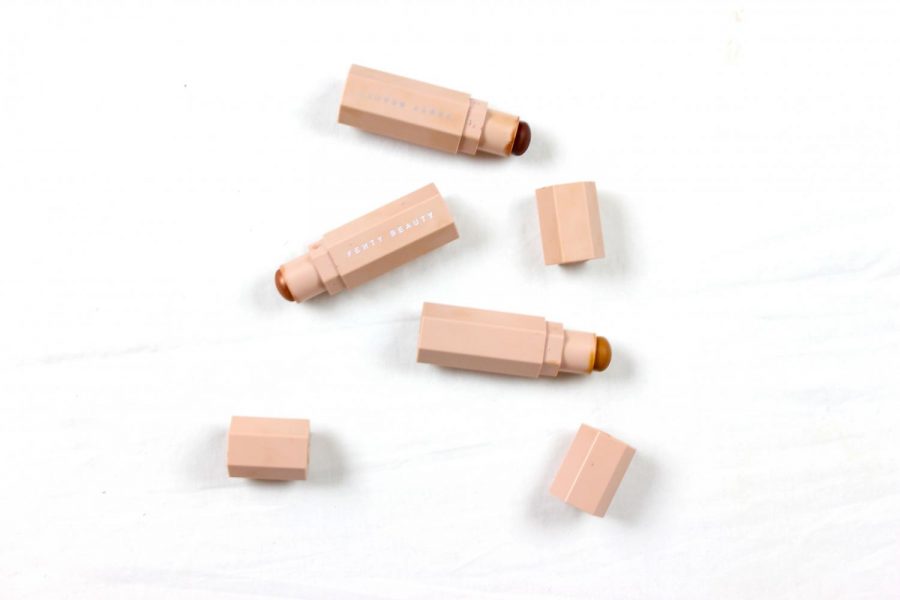 Fenty Beauty tackles lack of inclusion in the makeup industry
Rihanna's newest project aims to flatter beauty lovers of all skin tones
On Sep. 8, 2017, singer Rihanna launched her much-awaited makeup line, Fenty Beauty By Rihanna, in 19 countries at 1700 stores. The superstar's goal in making the line was to create makeup for "women of all shades to feel included, and all races and all cultures to be a part of this." The ideology behind the brand has warranted many positive reactions and reviews from consumers online.
In her first collection, she released items such as highlighters, contour sticks, and concealers. In addition, the brand is selling a line of foundation called Pro Filt'r with forty shades.
When asked about the line, a Westfield-Montgomery Sephora employee stated "The entire line is popular and good quality. The most bought are the Killawatt Highlighters, especially [the shade] Trophy Wife, the Pro Filt'r foundations, and the Match Stix Trio."
Rihanna has had immense success with her launch and it seems as though she will continue. On October 13th, she released her Holiday Galaxy Collection, consisting of three liquid eyeliners, four lip glosses, an eyeshadow palette, four lipsticks, and an eyeshadow brush.
Beauty bloggers and YouTubers of all skin tones have been doing reviews on every product Fenty Beauty has to offer. They are the target audience that Rihanna wanted to feel included – from the palest skin to the darkest tones.
Poolesville freshman Kennedy Robinson reported, "I think representation is great. This new push for making makeup for all skin tones came after [the Fenty Beauty launch]."
Due to her current success in the music industry, Rihanna's makeup line has a lot of exposure. The line sold out of six foundation shades within two days of its release. Some believe the popularity of Rihanna's line is paving the road for the makeup industry to become more diverse.
Robinson continued, "I think she needs some credit for her idea."
In the American foundation market, for every one shade suited for darker skin tones, there are three shades for lighter skin tones. Of the 16 shades of BareMinerals Complexion Rescue concealer, only two fit darker skin tones. Upon its release, Maybelline Dream Mousse foundation only featured one shade suited to darker skin tones.
Senior Paris Copeland said, "I was beyond excited [for Fenty Beauty] because it's rare for a black-owned business to get the recognition it deserves."
Copeland and Robinson agreed on the fact that Rihanna was a pioneer in making beauty products for all skin tones. Fenty Beauty's motto is "the future of beauty."
Copeland also stated that "[Rihanna] gave her brand inclusion because she cared, instead of for money."