American Astronauts Perform First All-Female Spacewalk
American astronauts Jessica Meir and Christina Koch performed the first all-female spacewalk on Oct 18, 2019. The purpose of the mission was to replace a faulty battery charge/discharge unit (BDCU). 
This historic spacewalk was to be performed by Koch and fellow astronaut Anne McClain in March, but two medium-sized torso components for the spacesuits were not available, so they had to find someone new. McClain left the space station in June, and Meir arrived in September. After the Oct. 11 installation of new lithium-ion batteries on the space station's exterior, it was found that the BCDU failed to activate. While the faulty BCDU did not impact space station functions or crew safety, it did not allow the new batteries to increase the power supplied to the station. 
President Donald Trump, Vice President Mike Pence, NASA Administrator Jim Bridenstein, and First Daughter Ivanka Trump made a five min call to Koch and Meir during the spacewalk to congratulate them.
 "You're very brave brilliant women and you represent this country so well and our country is very proud of you and we are very proud of you," claimed President Trump, according to NBC. 
Meir is the 15th woman to perform a spacewalk. She has a Master's degree from the International Space University and a Doctorate in Marine Biology from the Scripps Institution of Oceanography. 
Koch performed her fourth spacewalk, and is scheduled to break the record for longest single spaceflight by a woman if she returns in February after 328 days, as planned. 
When asked by the New York Times about how she feels about her accomplishments being examined in terms of her gender, Koch stated "I think it's important [to acknowledge her milestones as a woman] because of the historical nature of what we're doing and that in the past women haven't always been at the table." 
Koch has a Master's degree in Electrical Engineering from North Carolina State University. 
Both Meir and Koch, as well as McClain, graduated from NASA's 2013 class of astronaut trainees, where 4 out of the 8 trainees were women. However, of NASA's 38 active astronauts, only 12 are female. 
"I know that the space program has been involving more and more women in the recent years, but it was just coincidental that of all the people there were now just only women," explains 12th grade student Mahi Ganatra, founder of the GirlUp! club at PHS, commenting on the rarity of the all-female spacewalk. She founded Girl Up to empower female students and educate male students on struggles that women often face. 
The first ever spacewalk occured in 1965. Women, however, were not accepted into NASA's astronaut program until 1978, and Sally Ride became the first American woman to go into space in 1983. Kathryn D. Sullivan was the first American woman to perform a spacewalk in 1984. The all-female spacewalk was the 43rd spacewalk to include a woman and was guided from mission control by a woman as well: Astronaut Stephanie Wilson. 
According to NBC, Meir stated, "We do recognize that it is a historic achievement, and we do of course want to give credit to all of those that came before us."
About the Writer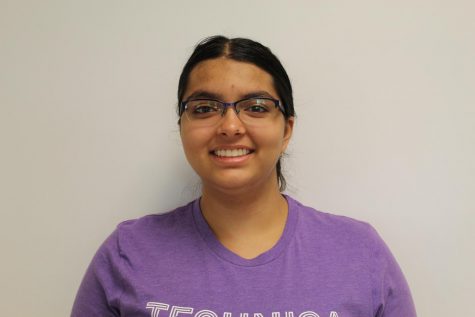 Sanjana Mayenkar, Staff Writer
Sanjana Mayenkar is a Senior in SMCS who strives to report on a variety of issues important to the Poolesville community. Even though this is her first...