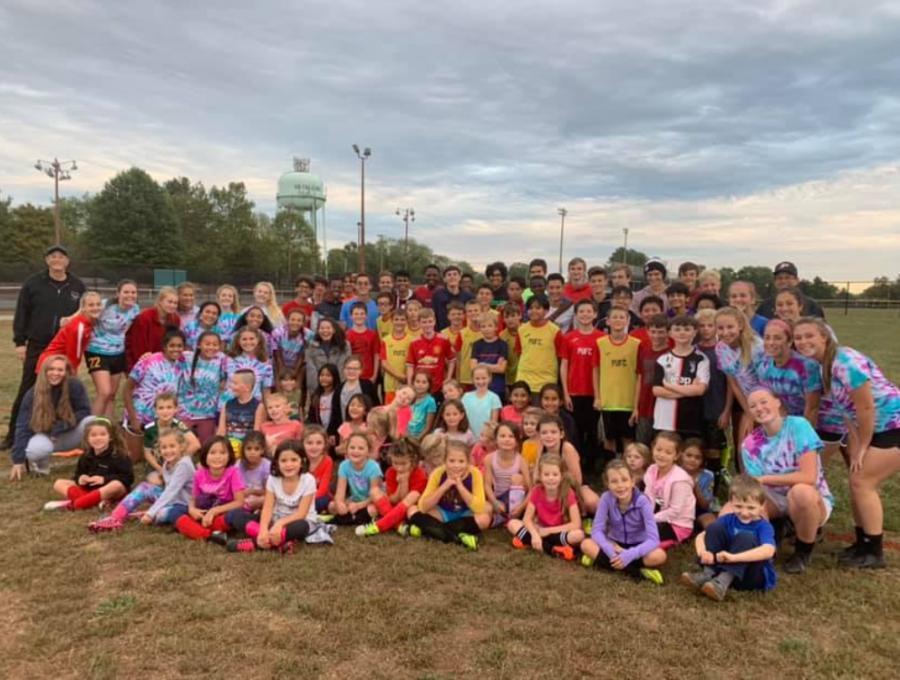 Varsity soccer initiates collaborative youth program
November 12, 2019
Poolesville High School's bleachers have been overtaken by young soccer players. Their small but mighty voices rain cheers upon the clusters of spectators that have come to support Poolesville's boys soccer team. The constant stomping of cleats is a strong reminder of their presence. Various boys and girls youth Poolesville Athletics Association soccer teams have rotated through the various activities that come with being a Junior Falcon at PHS's home soccer events. This new opportunity for both high school level teams and recreational ones has given Poolesville youth countless role models to look up to, while also offering an opportunity to raise awareness for the notoriously underappreciated soccer program. 
What started out as a small initiative in 2002 has now blossomed into mentoring programs around the world. The "Yes to the Children" campaign from a partnership between UNICEF and the World Cup in 2002 sparked this movement. The campaign advocated for protecting and improving the lives of children, and had kids of various ages playing with world renowned soccer players announced FIFA back in 2001. Since then, similar activities of practicing and being involved with the the more experienced athletes  of the sport have flooded every age range and location of every sport. Now it has even come to PHS. Although originally for awareness, the Soccer Junior Falcons offers a unique role modeling experience for the Varsity boys and girls soccer players to provide/give back to their community. 
Joining the Junior Falcons consists of escorting the varsity members out onto the field, standing next to them during the National Anthem, playing a scrimmage at the halftime break, and even participating in a varsity run practice. The jam packed program inspires fun for all ages participating and ensures success of the program.
Seth Rogge, a parent of two kids participating in the Junior Falcons, adds, "They learn teamwork, camaraderie, health, keep moving, keep going." The program goes further than surface level benefits that come with physical activity.
 The American Academy of Child and Adolescent Psychiatry notes that role models shape a child's behavior in school, decision making, forming relationships, and so on. Role models are essential to a child's development. They cultivate positive trusted figures and guide morals, eventually shaping the person they become.  Poolesville High School students have the chance to empower their community while giving back when taking on this role. 
Junior Ronoy Sarkar, a boys varsity soccer player, comments "It was cool to see their excitement.I felt more like an actual soccer game, more professional [like]  the atmosphere. They had a lot of energy!" Junior Falcons is a mutually beneficial program for both teams.
This isn't the first time Poolesville sports have introduced some younger athlete counterparts. The Poolesville Poms have hosted their annual Junior Falcon Poms Clinic for more than 5 years now.  However, while their event does raise awareness, the primary goal is to fund-raise. The clinic provides funds for the Poms and Cheer Booster Club, while teaching the kids pom dances and the cheerleader's cheers. Regardless of raising money or not, the different Jr. Falcons programs offer a chance to build up PHS's various sports programs and instills a sense of pride in the athletes and the community. 
"We're trying to grow you know, we've improved every season steadily, inspiring the next generation can hopefully cement the future of our program," Sarkar points out. The positive impact of the Junior Falcons on the community is the legacy PHS Varsity soccer will leave behind.